LSU vs. Alabama – The Game to Watch in College Football this Saturday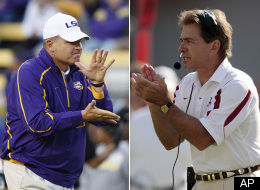 There are many rivalries that stand the test of time. Boston Red Sox/New York Yankees Duke/North Carolina and LSU/Alabama. All week the talk has been about this being the true championship game in college football.
But as the #1 and #2 teams get ready to square off in tonight's pivotal game let's take an in-depth look at this matchup that is promising to be the game of the year in College Football. So take a look at who has the edge in each key matchup

Quarterback: LSU
The Tigers have seniors Jarrett Lee and Jordan Jefferson running the show and also have a more diverse offense than Alabama's. Sophomore A.J. McCarron is making his ninth game start and it has never faced an environment anywhere near to the one he will see tonight.
Running back: Alabama
LSU has good backs, but Trent Richardson is the best player around the area and a menace with a true ability to score from any distance. Backup Eddie Lacy has as many yards rushing as LSU's leader, Spencer Ware, but Lacy is returning from a nagging turf toe injury. Alabama has the best run defense within the nation.
Receivers: LSU
Rueben Randle continues to be the Tigers' playmaker and it is tied for that SEC lead in receiving touchdowns with seven. Tight end Deangelo Peterson's receiving abilities lead him to a difficult game for Alabama's linebackers and safeties.
Offensive line: Even
LSU is fully healthy for the very first time in five games. Getting pads T-Bob Hebert and Will Blackwell back at their natural positions is vital and they are also boosted by P.J. Lonergan's return from an ankle injury.  Alabama's line has some depth issues, however the Tide still leads the SEC in rushing attacks at 229.2 yards per game.
Defensive line: LSU
The LSU Tigers have a bit more complex of a defensive front scheme and call for their players to do a bit more in comparison to the Tide's 3-4 D. Bama's linemen mainly attempt to occupy blockers to allow the 4 linebackers to move freely.
Linebackers: Alabama
Dont'a Hightower and Courtney Upshaw are perhaps the very best tandem in the united states with speed and power in their 260-pound frames.  LSU's Ryan Baker and Kevin Minter are more compact. Minter might find more action than normal as LSU most likely will remain in its base 4-3 defense a lot more than normal.
Secondary: Even
Both teams have great cover corners and difficult-striking safeties. Bama cornerback Dre Kirkpatrick is a great game on Randle, but LSU cornerback Mo Claiborne is equally as good. And there is always the "Honey Badger," Tyrann Mathieu, possibly the very best defensive playmaker around the area. Mark Barron and Robert Lester are larger than LSU's safeties, Brandon Taylor and Eric Reid, however the Tigers' tandem has got the edge in speed.
Special teams: Alabama
Final Score Prediction:
Alabama 37,  LSU 28
Date
Year
Location
Alabama Rank
LSU Rank
Winner
Score
November 18
1895
Baton Rouge, Louisiana
LSU
12-6
November 29
1902
Tuscaloosa, Alabama
LSU
11–0
November 9
1903
Tuscaloosa, Alabama
Alabama
18–0
December 2
1904
Baton Rouge, Louisiana
Alabama
11–0
November 23
1907
Mobile, Alabama
Alabama
6–4
November 25
1909
Birmingham, Alabama
LSU
12–6
November 15
1919
Baton Rouge, Louisiana
Alabama
23–7
November 11
1920
Tuscaloosa, Alabama
Alabama
21–0
October 29
1921
New Orleans, Louisiana
Tie
7–7
November 10
1922
Tuscaloosa, Alabama
Alabama
47–3
November 16
1923
Montgomery, Alabama
Alabama
30–3
October 10
1925
Baton Rouge, Louisiana
Alabama
42-0
October 30
1926
Tuscaloosa, Alabama
Alabama
24–0
October 8
1927
Birmingham, Alabama
Tie
0–0
December 8
1928
Birmingham, Alabama
Alabama
31–0
November 15
1930
Montgomery, Alabama
Alabama
33–0
September 30
1944
Baton Rouge, Louisiana
Tie
27–27
October 6
1945
Baton Rouge, Louisiana
Alabama
26–7
November 9
1946
Baton Rouge, Louisiana
19
LSU
31–21
November 22
1947
Tuscaloosa, Alabama
8
Alabama
41–12
November 20
1948
Baton Rouge, Louisiana
LSU
26–6
September 29
1951
Tuscaloosa, Alabama
9
LSU
13–7
September 27
1952
Baton Rouge, Louisiana
Alabama
21–20
September 26
1953
Mobile, Alabama
5
Tie
7–7
September 25
1954
Baton Rouge, Louisiana
Alabama
12–0
September 28
1957
Baton Rouge, Louisiana
LSU
28–0
September 27
1958
Mobile, Alabama
15
LSU
13–3
November 7
1964
Birmingham, Alabama
3
8
Alabama
17–9
November 6
1965
Baton Rouge, Louisiana
5
Alabama
31–7
November 5
1966
Birmingham, Alabama
4
Alabama
21–0
November 11
1967
Baton Rouge, Louisiana
Alabama
7–6
November 9
1968
Birmingham, Alabama
20
Alabama
16–7
November 8
1969
Baton Rouge, Louisiana
12
LSU
20–15
November 7
1970
Birmingham, Alabama
19
11
LSU
14–9
November 6
1971
Baton Rouge, Louisiana
4
18
Alabama
14–7
November 11
1972
Birmingham, Alabama
2
6
Alabama
35–21
November 22
1973
Baton Rouge, Louisiana
2
7
Alabama
21–7
November 9
1974
Birmingham, Alabama
3
Alabama
30–0
November 9
1975
Baton Rouge, Louisiana
5
Alabama
23–10
November 6
1976
Birmingham, Alabama
15
Alabama
28–17
November 5
1977
Baton Rouge, Louisiana
2
18
Alabama
24–3
November 11
1978
Birmingham, Alabama
3
10
Alabama
31–10
November 10
1979
Baton Rouge, Louisiana
1
Alabama
3–0
November 8
1980
Tuscaloosa, Alabama
6
Alabama
28–7
September 5
1981
Baton Rouge, Louisiana
2
Alabama
24–7
November 6
1982
Birmingham, Alabama
8
11
LSU
20–10
November 5
1983
Baton Rouge, Louisiana
19
Alabama
32–26
November 10
1984
Birmingham, Alabama
12
LSU
16–14
November 9
1985
Baton Rouge, Louisiana
20
15
Tie
14–14
November 8
1986
Birmingham, Alabama
6
18
LSU
14–10
November 7
1987
Baton Rouge, Louisiana
13
5
Alabama
22–10
November 5
1988
Tuscaloosa, Alabama
18
13
LSU
19–18
November 11
1989
Baton Rouge, Louisiana
4
Alabama
32–16
November 10
1990
Tuscaloosa, Alabama
Alabama
24–3
November 9
1991
Baton Rouge, Louisiana
8
Alabama
20–17
November 7
1992
Baton Rouge, Louisiana
3
Alabama
31–11
November 6
1993
Tuscaloosa, Alabama
5
LSU
17–13
November 5
1994
Baton Rouge, Louisiana
6
Alabama
35–17
November 4
1995
Tuscaloosa, Alabama
17
Alabama
10–3
November 9
1996
Baton Rouge, Louisiana
10
Alabama
26–0
November 8
1997
Tuscaloosa, Alabama
14
LSU
27–0
November 7
1998
Baton Rouge, Louisiana
Alabama
22–16
November 6
1999
Tuscaloosa, Alabama
12
Alabama
23–17
November 4
2000
Baton Rouge, Louisiana
LSU
30–28
November 3
2001
Tuscaloosa, Alabama
LSU
30–14
November 16
2002
Baton Rouge, Louisiana
10
14
Alabama
31–0
November 15
2003
Tuscaloosa, Alabama
4
LSU
27–3
November 13
2004
Baton Rouge, Louisiana
17
LSU
26–10
November 12
2005
Tuscaloosa, Alabama
4
5
LSU
16–13 OT
November 11
2006
Baton Rouge, Louisiana
12
LSU
28–14
November 3
2007
Tuscaloosa, Alabama
17
3
LSU
41–34
November 8
2008
Baton Rouge, Louisiana
1
15
Alabama
27–21 OT
November 7
2009
Tuscaloosa, Alabama
3
9
Alabama
24-15
November 6
2010
Baton Rouge, Louisiana
5
12
LSU
24-21
November 5
2011
Tuscaloosa, Alabama
2
1
Rankings from AP Poll
Olympic Cyclist Kelly Catlin Dead at 23
Olympic track cyclist Kelly Catlin, who competed in the 2016 Rio Janeiro Games, was found dead in her California home this past Friday due to an apparent suicide, according to an announcement from her father, according to Reuters.
"There isn't a minute that goes by that we don't think of her and think of the wonderful life she could have lived," her father, Mark Catlin said, according to VeloNews. "There isn't a second in which we wouldn't freely give our lives in exchange for hers. The hurt is unbelievable."
Catlin, 23, took the silver medal in Rio and was part of the teams who took home the gold in 2016, 2017, and 2018 World Championships.
Catlin had reportedly struggled with mental health in the past and her sister, Christine Catlin, said that Catlin was "a really special person – kind, funny, empathetic, and talented at literally everything she did, per the Washington Post. She just felt like she couldn't say no to everything that was asked of her and this was her only escape."
Tom Brady And Pats Play Record 8th AFC Championship Game, Seek 6th Superbowl
It's Championship Sunday and one of the NFL staples remain atop the league. The New England Patriots are appearing in their record 8th AFC title game in hopes of competing for a sixth title.
A season that most organizations would be happy with, was one of challenge for the Patriots. Usually a top tier team, they suffered bad losses to the Jaguars, Titans and Dolphins. However, in Patriot fashion along a weak AFC East, the Patriots finished 11-5, won a 10th straight conference title and secured a first round bye.
Kansas City will host New England in the AFC Championship game in what is a rematch from week six. That game featured an offensive clinic ,  As reported by CBS Boston, Brady went 24-35 passing for 340 yards and touchdown in that game; Mahomes went 23-36 passing for 352 yards and four touchdowns. The AFC Championship could very well play out the same way.
The Chiefs will be a tough out, They won their first home playoff game in 25 years last week against the Colts and are riding one of the most prolific offenses in history behind quarterback whisperer Andy Reid and phenome Patrick Mahomes who is arguably the NFLs best young QB.
In what is a David and Goliath matchup, Brady seems to imply they are the underdog. As he told CBS's Tracy Wolfson, "I know everyone thinks we suck and, you know, cant win games,".  Will the dynasty continue? Or will Reid and Mahomes hoist the Lombardi?
I'm leaning towards the game plan of Bill Belichick and veteran experience of Tom Brady in this one. I think a Patriot/Saints matchup is in order. Either way, it will undoubtedly be one for the ages.
Game Time: Sunday January 20th at 6:40ET/5:40CT on CBS.
An Agency Changing the Sponsorship Game for Athletes
The following is an official press release from Eight Seven Media
Sponsorships and endorsements have changed significantly over the past few years. Historically, we know them as mainstream commercials and endorsements by top apparel and shoe brands with professional athletes and celebrities at the forefront. Until recently, the huge rise of influencer marketing has changed brands perspective and they have gravitated towards using social media stars as their advocates. Influencers are compensated with hundreds of thousands of dollars and brands have turned away from the traditional celebrity or professional athlete. Eight Seven Media is looking to turn that model on its head and bring sponsorship dollars back to professional athletes.
Founded by Dylan Scance and Derek Flodmand, Eight Seven Media creates social media content for professional athletes. Working on the talent buying side, they noticed that brands were only picking talent based on either their audience or their content. When they would pitch athletes to certain brands, they knew they were a perfect fit for the brand from a personality and lifestyle perspective, but the athletes had a tough time getting deals from brands. Aside from the lack of resources these agencies provided, the number one reason was their lack of content. Most athletes understand that having a social media presence is crucial in today's market, but they don't necessarily understand exactly how to leverage their channels to their maximum potential.
We've outlined Eight Seven's process below:
Step 1: Identification
Along with a data-backed strategy, their team works hand-in-hand with both the athlete and agent to understand what types of brands they are interested in partnering with.
Step 2: Content Creation
Their team then works directly with the athlete to create rich, bespoke lifestyle social media content, specific to the verticals they have identified. They will meet directly with the athlete to bring this content to life.
Step 3: Amplification
As the athlete pushes out bespoke content via their social channels, their team leverages a specialized software called Social Ads to amplify top-performing content to target audience(s) based on the verticals we have identified. This provides the athlete with increased reach and exposure within the right audience segments- thus increasing their potential value to identified brands.
Step 4: Reporting
Via the Social Ads software, their team provides intuitive reporting on content performance, inclusive of demographic and geographic data which highlights the extended audience that has been exposed to the athlete's content.
Athletes are a perfect fit for brands for many reasons. They have a highly engaged audience that's not filled with bot accounts (something that's been plaguing the influencer industry for years). They are inspirational, motivational, and have overcome many challenges and hardships in life that inspire generations of fans. They are the perfect example of a true "influencer", but they are still getting overlooked for sponsorship deals.
Eight Seven Media also offers their "Athlete Incubator", a service where they work with newly signed athletes that are being developed by agents and teams and completely rebrand their social channels out of college. These athletes go through a 12-month process with Eight Seven where they advise them on best practices for their social channels, how to create and leverage high-quality content on their own, what brands look for from a social media perspective, and how to engage with their audience. Along with content creation, Eight Seven Media provides its clients with an analysis of how well their athletes social channels are performing.
The content being created is leveraged by agents when they're pitching an athlete for sponsorships or endorsements. With the huge rise in lifestyle and fashion brands, non-traditional endorsements are something that's taking the industry by storm. Kyle Kuzma signing with the GOAT app is a perfect example of how optimizing your content to fit the brands you want to work with pays off in the long-term. Brands not only want to partner with athletes that they can trust to produce high-quality content, but they want to ensure that this can be pushed out to their brands owned and operated social channels by repurposing these assets.
Learn more about Eight Seven Media here or reach out to dylan@eightsevenmedia.com.