Photo Credit: footbasket.com.
The Baylor dichotomy is going to be a new term for me. Either Baylor blows people out, or Baylor gets blown out. There is no in-between.
Last Saturday at Oklahoma State, Baylor was on the receiving end of a vicious beat down. 49-17, in fact. It ruined Baylor's chances at a miraculous national championship bid, possibly the Big XII if the Cowboys win out.
Add on to the week were some massive blowouts, and some of them likely surprised you. Texas A&M – and Johnny Manziel – both collectively fell on their face against LSU, and wreck their BCS/Heisman hopes respectively. After regaining the Pac-12 North's driver seat, Oregon was hijacked ferociously by Arizona, giving the Cardinal back the top spot in the division. Even Florida, once discussed to be a fringe top-10 team, ended up as one of the 10 worst. Georgia Southern, a team that didn't earn a single passing yard, beat the Gators to knock them out of bowl eligibility.
In stupendous irony, the Georgia Southern Eagles happened to beat the Gators without taking flight. The Eagles did not have a single passing yard to account for, making the Gators' loss much more embarrassing.
The most stunning of all? Not one, but two teams scored 80 points this week in the same conference. North Carolina laid 80 down on the newest FBS member Old Dominion, while Florida State got a nice tune-up against Idaho in scoring a school-record 80. South Carolina and Clemson got their tune-ups before their rivalry game this Saturday, winning with a combined score of 122-16.
So that said, it is a great week to hate somebody. All these rivalries, from the Iron Bowl to the Egg Bowl, things are going to get personal. But before you knockout your annoying sibling who happens to support your rival, enjoy this light-hearted reading. Please, I encourage you.
With apologies to Tony Carter and Tom Brady, here are the best and worst of week 13 in college football!
Best Player of the Week: Derek Carr, Fresno State QB
He may not be his brother – the former #1 overall pick David Carr – but Derek is making a name for himself as the quarterback of the Bulldogs. The senior, in his final home game at that, shattered all kinds of marks last Saturday against New Mexico, throwing for 522 yards and seven touchdowns en route to a 69-28 win over New Mexico. Even better? Fresno State set a school record with 820 total yards. An eye-popping performance for a man who, in spite of recent bad performances from the likes of Mariota and Manziel, could propel himself into potential Heisman discussion.
Best Team of the Week: Oklahoma State Cowboys
Statement made, faxed and hand-delivered by head coach Mike Gundy to the Big XII. Despite a now humiliating loss to West Virginia early in the season, the Oklahoma State Cowboys propelled themselves into national championship talk with a dominant 49-17 win over Baylor. What seemed like the unstoppable was slowed down after three 3-and-outs, and two forced fumbles. The defense also Baylor's offense without a touchdown through three quarters, and got several opportunities falling in their favor (two fourth-down stops and three recovered fumbles, most converted into touchdowns), which brought the Cowboys to a win.
Best Play of the Week: Fresno State fumblerooskie
Derek Carr may have been the main headline for Fresno State last week, but this play deserves some recognition. In a play that honors 1982 Nebraska to absolute perfection, Isaiah Burse took 'The Annexation of Puerto Rico' to the house for a 28-0 lead. It would eventually end in a 69-28 victory for the Bulldogs, thanks to this amazing play from Burse.
It's been a good year for Fresno State, especially if you can pull off a trick play like the fumblerooski.
Record-Breaking Performance of the Week: Keenan Reynolds, Navy QB
What a game Navy and San Jose State had last Friday on ESPN. Coincidentally, what a platform for quarterback Keenan Reynolds to make a name for himself. Reynolds made college football history by putting up insane running-back line stats, rushing 36 times for 270 yards and seven – count 'em, seven – touchdowns in a 58-52 win over the Spartans. This puts Reynolds at 26 rushing touchdowns, one shy of tying the FBS record held by Collin Klein.
One Spectacular Feat of Awesomeness: Not one, but two 80-point games
If you are a fan of the ACC, you loved the offensive output that almost every single team laid out this week.
Miami posted 45 in a win over Virginia. Georgia Tech scored 66 on Alabama A&M. But two teams, North Carolina and Florida State, made a lot of noise by scoring 80 points each in their games. North Carolina posted 80 through three quarters in a 80-20 whooping of Old Dominion. Florida State, in wake of playing at Florida and in the ACC championship the week after, got a nice tune-up with an 80-14 win over Idaho, the most single-game points ever in school history.
And now, it's time to turn to something that is worth looking away from (or towards, if you're a masochist.) Here are the college football fails of the week.
Worst Team of the Week: Florida Gators
Really, Florida? It's absolutely stunning that this even happened. Losing injuries is one thing, especially if it's your starting quarterback, a multiplicity of your best defenders, and even resorting to a third-string quarterback against Georgia Southern. It's another thing to lose to said Georgia Southern team that didn't even get a single passing yard. There can't be a plausible way that head coach Will Muschamp survives this loss, this season and all these injuries.
Worst Play of the Week: Florida Gators block each other
If you want to define Florida's loss to Georgia Southern in one photo, this is the perfect one to use.
In a way, it's symbolic of not only Florida's season, but their own offense shooting each other in the foot. Ouch.
One Unspecatular Fail: Bryce Petty stumbles and falls
If you want to summarize Baylor's performance against Oklahoma State Saturday, all you need to do is look at this play: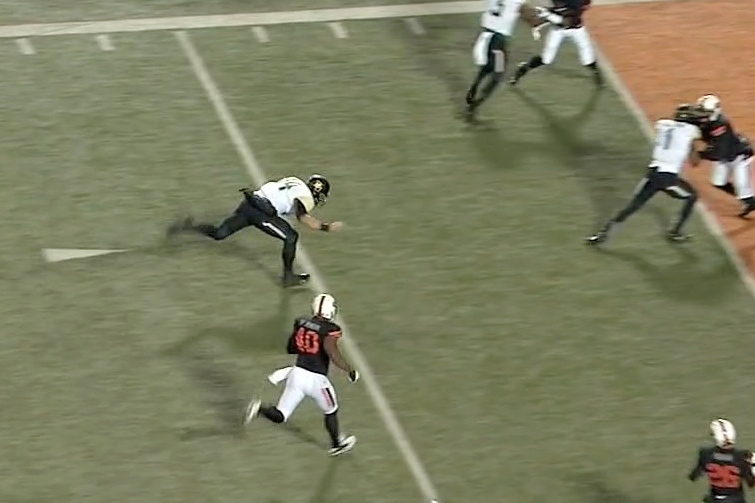 So there you have it: four good and bad things that happened in the week of college sports. We love sports, we live for sports too. But most importantly, we care as a whole. Until next time, enjoy this gif of the week from another LSU fan. Geaux Tigers!