Credit Photo:  The Hoop Doctors
This past summer was the NBA's biggest offseason since…carry the one…hmmm…the last time LeBron James was a free agent.
A lot of players –LeBron James included– were given max contracts this off-season. Some full proof (James, Carmelo Anthony) some with major risk attached (Chandler Parsons, Eric Bledsoe).
Whether it was to retain a restricted free agent by matching a lucrative offer (or not matching) or giving big bucks to a star to pry him away from his former squad (or bring him #home), let's see how some players who got paid are doing so far in this blooming 2014-2015 NBA season.
LeBron James
A bit of a no brainer, wouldn't you say?
Everything lined up for the Cleveland Cavaliers to return to contention in 2014. They had a bad team but they had a star point guard. They had a terrible record but they had the first overall pick for the third time in four years. The Miami Heat were great but didn't beat the San Antonio Spurs in the Heat's third straight Finals appearance. LeBron could have opted into another year, but the scary resemblance to LeBron's former Cav teams that had him playing 1-on-5+3=8 in Miami combined with the opportunity presenting itself in his home state of Cleveland was just too good of a narrative to not come true.
So there he went, and Kevin Love followed and the usual assortment of veterans looking to finish their careers with a ring (Mike Miller, Shawn Marion, Ray Allen soon) followed to form the next super squad in Cleveland. Certainly Larry Hughes, Donyell Marshall, Big Z and Damon Jones won't be surpassed but Dan Gilbert and his letters were forming a good little team up north.
The season for Cleveland got off to a rocky start, headlined by some seriously uncharacteristic LeBron James performances. Through the Cavs' first four games King James had 4.5 turnovers and 41 % shooting. What makes LeBron so utterly incredible is not his historical numbers but his historical consistency with historical numbers. Both were absent in his return to Cleveland.
However, things are beginning to straighten themselves out. Less Dion Waiters the better.
Verdict So Far: Good Move. Duh.
Carmelo Anthony
LeBron James was either staying put in Miami or going back to Cleveland. Hence no tour of attractions. Carmelo Anthony was either staying in New York or staying in New York. But he didn't tell us until after. So he went on a Victors Tour across the nation, from Chicago to Houston to Dallas. However, Carmelo wasn't planning on taking a paycut to be on a winner, any of those three teams would be far, far better of a choice. We all knew that. But that's why you play the games.
Rockets: 13 wins
Mavericks: 13 wins
Bulls: 11 wins
Knicks: 14 losses
We've played some of the games, this isn't a surprise.
But Carmelo Anthony got what he wanted, his money. Five years and over $124 million dollars to stay in New York to lead a Knicks team who's second best player is…Jose Calderon?
Verdict So Far: Melo is worth it, but expected team results.
In an interview with TV's greatest show Inside the NBA, Chris Bosh said in response to Ernie Johnson's "How close were you to becoming a Houston Rocket?"
Not too close. I never wanted to leave Miami.
Then he made some swirling rumors metaphor that isn't worth sharing (but can be viewed via hyperlink above). Whether we believe it or not, it seemed up until the news broke that he wasn't going to Houston to join James Harden, Dwight Howard and Chandler Parsons that he was going to the Space City to form a seriously formidable group that Rockets GM Daryl Morey would have stuck in Mavericks GM Mark Cuban's face for oh so many years to come.
Especially since LeBron left, and Chris Bosh hadn't been a number one or even a number two on many occasions in four seasons since leaving Toronto, where he did play trust me. However, Bosh has taken the responsibility this year and has been very productive. He was the Eastern Conference Player of the Week in the season's opening semana.
Now permanently a center, Bosh is averaging 21.6 points, 8.8 rebounds, 2.4 assists, a block and just under a steal per game in South Beach, soon to be redubbed "Boshtralia."
Verdict So Far: Great, unfortunately losing LeBron has made the Heat into a good team with a chance to be great, not a great one with a chance to be a champion.
Gordon Hayward has a ton of admirers around the National Basketball Association. Me, for example. He's my favorite player. I would have given him a max deal. Michael Jordan and Ace Feltman have that in common because MJ wanted Gordon Hayward to become the face of the transition back to being the Charlotte Hornets.
Four years and just under $63 million for a  toolsy, very toolsy 6 foot 8 SG/SF player that plays both sides of the ball sounds right on paper. That's some some serious versatility from a position that is arguably the hardest to fill with a great player.
After failing to come to an extension the prior season with the Utah Jazz, Hayward entered restricted free agency. There was only one small micro chance he would possibly leave the Jazz, if he got a max contract. Even then, it was a no brainer for Utah to re-sign the face of their franchise.
Hayward, among all the good, can be very, very streaky offensively, especially with his shooting percentages. But 2014-15 –season five for the former Butler Bulldog star– has been a revelation of his talent, and he's still scratching the surface. He's averaging career highs in points (19.2), rebounds (5.6), steals (1.6) and a low in turnovers so far at 2.5. His FG% is at .478, his highest since .485 in a small sample sized rookie season. He has a career high .53 percent shooting on two pointers, but with Hayward everyone watches the year-to-year fluctuation of his three point shooting. So far he's at 37%.
The Jazz, however, are 5-12 entering Cyber Monday, but Hayward has been a constant contributor, including arguably the best moment of the year, when he nailed a game winning jumper to beat the Cleveland Cavaliers. It's a very young team, Hayward is the 6th oldest player on the team and he doesn't turn 25 until March.
Verdict So Far: Worth it, franchise player Gordon Hayward is.
Eric Bledsoe
Eric Bledsoe made it all the way until September 21st before receiving so much as an official contract offer. When it came, it arrived from the Minnesota Timberwolves for five years and a lucrative $70 million dollars. Being a restricted free agent, the Phoenix Suns were probably just waiting for someone to make an offer before they decided on a course of action regarding one of their best players, if not their best. (him or fellow point guard Goran Dragic)
The Suns signed and traded for spark plug Isaiah Thomas from the Sacramento Kings, but they were still intending to re-sign Bledsoe. With two more years at 7.5 million apiece left for Goran Dragic and now four years and $27 million going to Isaiah, the Suns and their guard heavy roster were in a tough spot.
At the end of the day it made far more sense to pay Bledsoe and have assets to work with later than lose Bledsoe to free agency and break up the exciting Bledsoe-Dragic (and now-Thomas) duo (now trio) that almost took the Suns from cellar dwellers to the playoffs in 2013-14.
Bledsoe's numbers are similar to his breakout campaign a year ago, his scoring is down a tick but pretty much all his peripheral stats except .4 steals are up.
Verdict So Far: Right move, figure out what to do with guard flux later.
Chandler Parsons
We end with the player signed by my team, the Dallas Mavericks. Not only signed by the Mavs, but plucked from in-state rival Houston Rockets.
Parsons, the 38th overall pick in the 2011 NBA draft, has always been on my radar. I thought he was a perfect NBA prospect coming out of Florida (where he was the SEC player of the year). A 6 foot 9 small forward that could do things from rebound to shoot the long ball. Still, he lacked sex appeal (not literally, right ladies?) in the form of upside as a first round pick or stability/overseas eligibility in a second rounder.
So in the end he was drafted by Houston then traded to Minnesota then traded back to the Rockets where he carved out an impact role in his second and third seasons and was even a rotational player in his first NBA season, very rare for a 2nd round pick.
The Rockets had the option to keep Parsons one more season and then expose him to unrestricted free agency in 2015, but they elected to extend a qualifying offer which is declined 99% of the time and CP25 became a restricted free agent in 2014.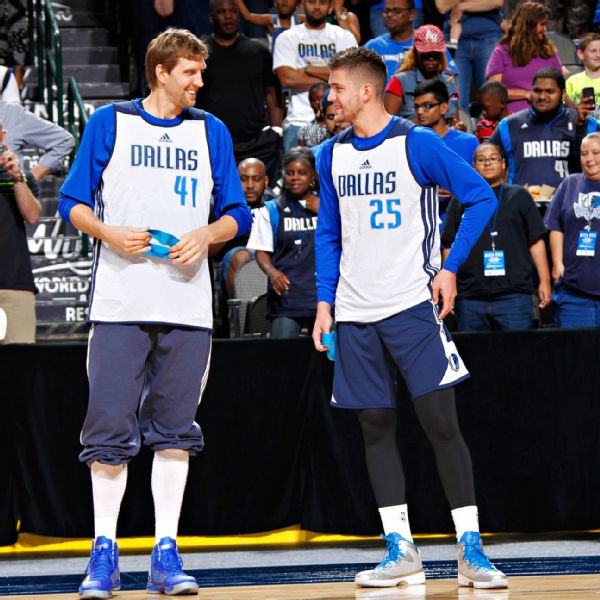 Interest came from many teams, including the Cleveland Cavaliers who were going to make Parsons a big time offer if they couldn't convince that other guy to come home. So the Dallas Mavericks made Parsons an offer he couldn't refuse. Well, an offer sheet he couldn't refuse to sign. Houston took its three days to debate matching or letting a key cog in their roster go. Ultimately, when Chris Bosh turned them down the Rockets decided to let Parsons go and wait another year to try and hit the free agent market for that third star.
So far Parsons start in Dallas has been frustrating, to say the least. His scoring is lower than it was in either of the prior two seasons, in fact everything is down. It's still very, very early in not only the 14-15 season but the 3-year $46 million dollar contract Chandler Parsons has, but the early results are worrisome for the team's second highest paid player.
Verdict So Far: Not good. Making star money, playing a contributing role.