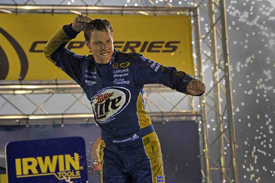 When Brad Keselowski broke his ankle at Road Atlanta a month ago was anyone thinking that he would have four straight top-three finishes (2 of which were wins)? And if you did, you should have been playing the lottery.
Saturday's race had headlines that every race dreams of having. Why? It was racing under the lights at Bristol! And since the re-paving of Bristol a lot of fans, media and drivers have said that the track isn't the same anymore. Well, this may be true but with time and wear to the track "Old Bristol" will shine through. But enough of trying to sell Bristol, let's talk racing!
Saturday's running of the Irwin Tools Night Race was merely dominated by two drivers, who weren't really in contention for the win within the closing laps. Jeff Gordon had not led a single lap going into this race on Bristol's "new" surface, but that would change as he would lead an astonishing 206 total laps. Gordon had his shot at a win, if only he could have won the battle off pit road and could have challenged P2 finisher Martin Truex Jr. in hopes of catching soon to be race winner Keselowski.
Truex's team had made a "gutsy" call to take two tires versus the four to win the track position, knowing that drivers like Gordon would be right behind them on the restart. "I wasn't too worried about the drivers on two tires, however I was really surprised we weren't able to get my Martin (Truex) as he was strong on the top" Gordon said.
At the end of the race, Gordon seemed more concerned over the pit road controversy, than the actual ending of the race. "I tell you, the pit road story is kind of interesting, I think they (NASCAR) will have to look at that. Qualifying has become such a premium and we qualified pretty well to pick our stall, but if you look how the 2 and the 17 were able to 'shoot' out there, it kind of defeats the purpose of a pit road speed." Gordon later defended, "but that's not what cost us the win, we just didn't get it done on the race track."
Needless to say, Gordon didn't steal the spotlight away at Bristol, Keselowski did. Broken Ankle and all! After the accident, many of us expected to see someone else in the car at Pocono but Brad made us all believers when he went on to win Pocono, followed by a 2nd place at the Glen, a 3rd place at Michigan..And of course Saturday's win at Bristol!
Brad looked extremely excited when he climbed out of the car. And in all honesty, he should be excited because this win marks win #3; only one behind Kyle Busch, our points leader. Brad is only 21 points out of 10th place and holds the 1st wild card spot in the Chase standings. Look for Brad to race himself into the top 10 in points and be a serious contender for the championship.
What's next? Atlanta is and its going to be under the lights and there will be more sparks and fireworks to come!
Grading 2018′s New Driver/ Team Pairings – Alex Bowman/ Hendrick Motorsports
Undeniably the apple of an entire nation's eye for over two decades, Dale Earnhardt Jr poignantly announced in the spring of 2017 he would step away from driving in the Monster Energy NASCAR Cup Series at the end of the 2017 season.
Once the initial shock value wore off, reality set in. Who could possibly fill the shoes of the sport's most popular driver? Dale Jr's lasting impression on legions of fans young and old is unparalleled. Ultimately the conundrum of the century would centre around who might fill the gargantuan shoes little E would leave behind.
Dale Jr's departure from Hendrick Motorsports left one the sport's most coveted rides up for grabs. Immediately the rumour mill was set ablaze with potential candidates loyal Dale Jr supporters fancied.  Following three months of intense speculation, Rick Hendrick would reveal Dale Jr's replacement in late July 2017.
Next man up for the #88 team a tall lanky fella from Tucson Arizona.  Chances are y'all probably remember him as the kid that subbed for Dale Jr while he recovered from concussion-like symptoms that kept him from the seat of the Nationwide Chevrolet in the fall of 2016.
Certainly no stranger to the Monster Energy Cup Series (Made 81 Career starts from 2014-2016), Alex Bowman makes his triumphed return as a full time driver on the circuit for the first time in nearly two years. Driving the #88 car for Hendrick Motorsports axiomatically elevates Bowman from enchanting underdog to proverbial impact player. No longer a low man on the totem pole expeditious results at HMS would give credence to an emerging young star hoping for a rebirth following past failures with BK Racing & Tommy Baldwin Racing.
Thrust into a precarious position at the age of 21, Alex Bowman exhibited incredible poise in the face of adversity. Visibly Alex was not equipped for the competitive environment that cup racing bestowed upon him back in 2014. One quality season (2013 – 2 top 5's, 6 top 10's 2 poles, 11th in the driver standings) in the Xfinity Series cannot enumerate impending success on the other side.
Instead of licking his wounds Bowman bided his time wisely eventually earning the opportunity to sub for Dale Jr in the fall of 2016.  What could have easily morphed into catastrophic gaffe #3 for Bowman positively altered his career saving him from infinite anonymity.
In the 10 races (2016) Alex piloted the #88 car he made quite an accounting for himself (3 top 10's, 1 pole) earning the respect and confidence of both Mr. Hendrick and Dale Jr.
The simple formula for success in 2018 relies squarely on the shoulders of Alexander Bowman.
Bowman's familiarity with crew chief Greg Ives and the entire #88 team perpetuates some of the chemistry established back in 2016.  A contingent of smart fans out there including myself firmly believe Alex Bowman was on his way to capturing the checked flag at his home track(Phoenix) in November of 2016. On this day Bowman dazzled, starting the race from the pole ultimately leading 194 laps on his way to a career best 6th place finish.
Even though the former self-proclaimed bad luck Bowman left the desert without the checked flag, indisputably he walked away a winner.  Bowman's courageous showing converted the cynics into believers. Without this fine performance in the bag Bowman could have found himself easily lost in the shuffle never to be heard from again.
Perseverance spearheaded the rise of Bowman mania. The whimsical wave of momentum Bowman's been on since that race at Phoenix spilled over into 2017. Bowman turned heads in February finishing third in the Clash at Daytona, once again piloting the #88 Nationwide Chevrolet. He would also capture his first career Xfinity Series victory at Charlotte in the fall of 2017 driving for Chip Ganassi.
Perceptibly this young buck is completely equipped for the fate that awaits him once the green flag drops on the 2018 Monster Energy Cup Series at Daytona in February.
Rick Hendrick has all the confidence in the world in Bowman's capabilities. Mr. H could have taken the high road and hired an established veteran driver, instead trusting Bowman's youthful exuberance lets the entire racing world know he's committed for the long haul.
Alex Bowman has the credentials to resuscitate Rick Hendrick's anaemic #88 team from the ashes. Fresh blood can unite an entire nation of fans that are starving for a breath of fresh air.
Don't Be Dale Jr, Be Alex Bowman. That's paramount.
Alex Bowman has an entire nation on his side. So watcha  gonna do when Bowmanmania runs wild on you?
Final grade – B
Photo courtesy of Autoweek
Grading 2018′s New Driver/ Team Pairings – Aric Almirola/SHR
Marred in a boundless rut for the past two seasons.  Aric Almirola prepares himself for life after Richard Petty Motorsports in 2018.
Following a disappointing 2017 campaign (29 starts, o wins, 3top 5's, 6 top 10's 29th in the driver standings) the former Fresh Prince of Tampa made perhaps the most difficult decision of his racing career leaving RPM, a place he's called home for the past six seasons.
Despite never setting the world ablaze in their six years together Almirola & RPM collected (1 victory, 10 top 5 finishes, 30 top 10 finishes, 1 pole, 1 Playoff appearance 2014) disguisedly respectable numbers for a driver/team combination absolutely, nobody had ever given a fighting chance back in 2012.
Gradually as time progressed Almirola found his groove in the #43 car, collecting a dramatic victory at the mecca of racing, Daytona in July of 2014. The win would be the first of Aric Almirola's career in the Monster Energy Cup series and the first for RPM since 2012.  Winning at Daytona elevated Almirola in to the playoff picture that season (2014) ultimately finishing 16th in the final driver standings following a first-round exit.
Qualifying for the playoffs in 2014 generated new life into both RPM & Aric Almirola. Hitting their stride when it mattered most Almirola would once again solidified himself as a playoff contender in 2015.
Finishing inside the top 20 in 19 of the first 26 races of the season.  Aric Almirola entered the final race of the regular season at Richmond in September firmly inside the playoff picture sitting 16th in the driver standings.
Notwithstanding his courageous efforts in the closing moments of the race, the Fresh Prince of Tampa would fall one lap shy of producing back to back playoff seasons. Finishing 4th in the race dropped him into 17th place in the driver standings one position short of making it back atop center stage with the sports elite drivers.
The cyclical nature of the business would have a profound impact on Richard Petty Motorsports over the next two seasons. Incapable of replicating prior successes RPM regressed considerably. A bevy of changes within the organization ranging from crew chief changes to downsizing the King's multi car operation into a single car team for 2017 left the door wide open for Aric Almirola to take his talents elsewhere.
Aric Almirola and longtime Richard Petty Motorsports sponsor Smithfield foods are on the move for 2018. Both are set to take over the #10 car at Stewart Haas Racing.
Stewart Haas Racing made an official announcement in mid-November, welcoming Almirola into the fold   after weeks of speculation regarding the future of the #10 car. Even with championship caliber drivers on the open market SHR was one hundred percent committed to signing Mr. Almirola once he became a free agent at the end of the summer.
Crew Chief Billy Scott will remain with the team in 2018, his third overall with SHR. Scott was hired in December of 2015 to work with then driver of the ##10 car Danica Patrick in hopes of turning her racing career around following flashes of brilliance on the track the previous season in 2014. With Billy Scott at the helm Danica would only record 1 top ten finish in three seasons. Vainly the Danica/ Billy Scott experiment lost its gleam.
Smithfield's involvement is paramount for a team that found itself overwhelmed by sponsorship woes last season. For Almirola having Smithfield grace the hood of the #10 car provides him with a sense of familiarity. Both driver and sponsor have been together through thick and thin for the past 6 years.  Smithfield's undying loyalty to Aric Almirola is incredibly remarkable.
Joining a championship winning organization for the first time in his 11-year Cup career undoubtedly elevates Almirola's confidence beyond any fragment of time prior to his arrival at SHR.
The simple fact Tony Stewart believes whole heartedly in Almirola's credentials speaks volumes for a driver most racing fan have failed to connect with.
Perhaps the most integral component of Almirola's future success at SHR relies heavily on establishing a firm working relationship with championship winning teammates Kevin Harvick and Kurt Busch. Both whom have experienced a career renaissance since joining Stewart Haas Racing in 2014.
Taking a few pointers from two of the sport's finest drivers can only make Almirola better on race day.
Unquestionably, the addition of Aric Almirola transforms the #10 car from a middle of the pack team into a team that will most certainly contend for a coveted playoff position in 2018. Having tasted bittersweet playoff glory in the past, Almirola knows he's been given a second chance to make a profound impression on the entire Monster Energy cup series garage.
Although he most likely won't compete for the championship in 2018, Aric Almirola's number one goal in year one with SHR is establishing the #10 car as a legit playoff hopeful for the next several years.  Building a successful campaign in 2018 automatically gives credence to Tony Stewart's unconventional driver choice.
While the jury is still out on Aric Almirola following a couple of dismal seasons, I'm totally convinced this is the best possible situation for both a team and driver in dire need of a positive transformation.
Yes, Aric Almirola is a minor upgrade from Danica Patrick as driver of the #10 car, but under no circumstances can we expect a career year from the Fresh Prince of Tampa in 2018.
The pieces are finally fitting, but the puzzle won't be completed until 2019.
Final grade C+
Photo courtesy of MRN
Recap of the Go Bowling 400
For the second time in as many races at Kansas Speedway, Martin Truex Jr flexed his muscle and totally outclassed his comrades leading 104 laps of the scheduled 267 run on Saturday night.
Positive karma was certainly on the side of NASCAR's resident Jersey boy on Saturday night as he snatched victory from the jaws of defeat in the closing laps of the race. After letting one slip away at Kansas last season there's no way Truex Jr would be denied on this night.  Once Martin finally cleared Ryan Blaney who arguably had the fastest car of the evening on lap 249 there was no going back.   The race was in the bag despite a few late restarts that Turex Jr ultimately controlled down the final stretch.
Saturday night's victory was the seventh since 2015 for the powerhouse combination of Martin Truex Jr and Furniture Row Racing. Who are clearly primed for another deep playoff run once the chase starts in the fall of 2017.
While the Furniture Row Racing team celebrated in the winner's circle the entire NASCAR community was overcome with deep despondency.  Overshadowing Furniture Row's jubilation was one of the most vicious wrecks in recent memory. On lap 201 Joey Logano's car got loose and sent Danica Patrick hard into the  wall in turn 1, in the process collection an oncoming Aric Almirola.  The Richard Petty Motorsports driver would take the hardest lick of the three drivers involved in the wreckage.
After several tense moments Almirola with the assistance of the Kansas Speedway safety crew would be cut from his car, and air lifted to a local medical facility.   Richard Petty Motorsports released a statement early Sunday morning that Aric Almirola suffered a compression fracture of his T5 vertebra. He returned home to North Carolina Sunday and his driving status at this time has yet to be determined.
As for Danica Patrick, Saturday night's carnage was the cherry on top of a melted sundae that is the queen of speeds hellacious 2017 campaign.
Heading into next weekend's Coca Cola 600, Danica Patrick sits 33rd in the driver standings, making this the worst start to her five year Monster Energy cup career.
Danica's slow start has many speculating 2017 could indeed be the final year we see the popular driver turns laps on Sunday afternoons.
One of these weekends Ryan Blaney is going to put it all together and capture his first career Monster Energy Cup series victory.  If it weren't for bad luck Ryan Blaney would have no luck at all in 2017.  With that being said the second generation driver put some of the bad karma behind him at Kansas Speedway on Saturday night. Ryan Blaney looked untouchable for a better part of Saturday night's Go Bowling 400 before Martin Turex Jr passed him and put of bow on the race.
Moral victories don't count however bringing home a 4th place finish after several weeks of unfortunate misfires is a step in the right direction for the Wood Bros and young Ryan Blaney.
Momentum breathes confidence.
Despite the fact Blaney should have scored 3 victories by my account this season, putting these failures in the back of the ol memory bank makes this guy one of the most intriguing drivers to keep an eye on as the summer months roll on.
Although Ricky Stenhouse Jr failed in his bid to go back to back fresh of the heels of his first career cup win, he and Roush Fenway Racing teammate Trevor Bayne continue their meteoric rise to the top of the heap in the Monster Energy cup series.
The Roush Fenway Racing drivers finished 10th & 11th respectively in Saturday night's Go Bowling 400.  If the chase stared today both drivers would be firmly in the thick of the title picture.
While Stenhouse Jr is working on a career year ( 1 win, 3 top 5's, 5 top 10's, 1 pole) though the first 11 races, his teammate Trevor Bayne continues his vast improvement finishing inside the top 20 in 8 of the 11 races run this season.
Daniel Suarez is one incredible driver. Is he not?
The 2016 Xfinity series champion continues his march towards the winners circle just 11 races into his cup series career.
Suarez tied his career best finish of 7th on Saturday night.
In a time when Joe Gibbs Racing looks completely out of sync, Daniel Suarez represents a beacon of hope for an organization in desperate need of a pick me up.
Despite being unexpectedly trust into the role as driver of the #19 Toyota weeks before the Daytona 500 and working with two different crew chiefs this season Suarez has completely shattered all expectations while looking like a seasoned pro instead of a green horn.