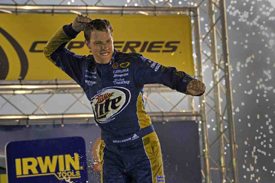 When Brad Keselowski broke his ankle at Road Atlanta a month ago was anyone thinking that he would have four straight top-three finishes (2 of which were wins)? And if you did, you should have been playing the lottery.
Saturday's race had headlines that every race dreams of having. Why? It was racing under the lights at Bristol! And since the re-paving of Bristol a lot of fans, media and drivers have said that the track isn't the same anymore. Well, this may be true but with time and wear to the track "Old Bristol" will shine through. But enough of trying to sell Bristol, let's talk racing!
Saturday's running of the Irwin Tools Night Race was merely dominated by two drivers, who weren't really in contention for the win within the closing laps. Jeff Gordon had not led a single lap going into this race on Bristol's "new" surface, but that would change as he would lead an astonishing 206 total laps. Gordon had his shot at a win, if only he could have won the battle off pit road and could have challenged P2 finisher Martin Truex Jr. in hopes of catching soon to be race winner Keselowski.
Truex's team had made a "gutsy" call to take two tires versus the four to win the track position, knowing that drivers like Gordon would be right behind them on the restart. "I wasn't too worried about the drivers on two tires, however I was really surprised we weren't able to get my Martin (Truex) as he was strong on the top" Gordon said.
At the end of the race, Gordon seemed more concerned over the pit road controversy, than the actual ending of the race. "I tell you, the pit road story is kind of interesting, I think they (NASCAR) will have to look at that. Qualifying has become such a premium and we qualified pretty well to pick our stall, but if you look how the 2 and the 17 were able to 'shoot' out there, it kind of defeats the purpose of a pit road speed." Gordon later defended, "but that's not what cost us the win, we just didn't get it done on the race track."
Needless to say, Gordon didn't steal the spotlight away at Bristol, Keselowski did. Broken Ankle and all! After the accident, many of us expected to see someone else in the car at Pocono but Brad made us all believers when he went on to win Pocono, followed by a 2nd place at the Glen, a 3rd place at Michigan..And of course Saturday's win at Bristol!
Brad looked extremely excited when he climbed out of the car. And in all honesty, he should be excited because this win marks win #3; only one behind Kyle Busch, our points leader. Brad is only 21 points out of 10th place and holds the 1st wild card spot in the Chase standings. Look for Brad to race himself into the top 10 in points and be a serious contender for the championship.
What's next? Atlanta is and its going to be under the lights and there will be more sparks and fireworks to come!