LSU vs. Alabama – The Game to Watch in College Football this Saturday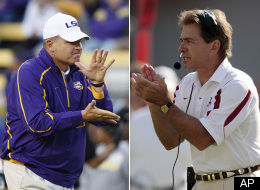 There are many rivalries that stand the test of time. Boston Red Sox/New York Yankees Duke/North Carolina and LSU/Alabama. All week the talk has been about this being the true championship game in college football.
But as the #1 and #2 teams get ready to square off in tonight's pivotal game let's take an in-depth look at this matchup that is promising to be the game of the year in College Football. So take a look at who has the edge in each key matchup

Quarterback: LSU
The Tigers have seniors Jarrett Lee and Jordan Jefferson running the show and also have a more diverse offense than Alabama's. Sophomore A.J. McCarron is making his ninth game start and it has never faced an environment anywhere near to the one he will see tonight.
Running back: Alabama
LSU has good backs, but Trent Richardson is the best player around the area and a menace with a true ability to score from any distance. Backup Eddie Lacy has as many yards rushing as LSU's leader, Spencer Ware, but Lacy is returning from a nagging turf toe injury. Alabama has the best run defense within the nation.
Receivers: LSU
Rueben Randle continues to be the Tigers' playmaker and it is tied for that SEC lead in receiving touchdowns with seven. Tight end Deangelo Peterson's receiving abilities lead him to a difficult game for Alabama's linebackers and safeties.
Offensive line: Even
LSU is fully healthy for the very first time in five games. Getting pads T-Bob Hebert and Will Blackwell back at their natural positions is vital and they are also boosted by P.J. Lonergan's return from an ankle injury.  Alabama's line has some depth issues, however the Tide still leads the SEC in rushing attacks at 229.2 yards per game.
Defensive line: LSU
The LSU Tigers have a bit more complex of a defensive front scheme and call for their players to do a bit more in comparison to the Tide's 3-4 D. Bama's linemen mainly attempt to occupy blockers to allow the 4 linebackers to move freely.
Linebackers: Alabama
Dont'a Hightower and Courtney Upshaw are perhaps the very best tandem in the united states with speed and power in their 260-pound frames.  LSU's Ryan Baker and Kevin Minter are more compact. Minter might find more action than normal as LSU most likely will remain in its base 4-3 defense a lot more than normal.
Secondary: Even
Both teams have great cover corners and difficult-striking safeties. Bama cornerback Dre Kirkpatrick is a great game on Randle, but LSU cornerback Mo Claiborne is equally as good. And there is always the "Honey Badger," Tyrann Mathieu, possibly the very best defensive playmaker around the area. Mark Barron and Robert Lester are larger than LSU's safeties, Brandon Taylor and Eric Reid, however the Tigers' tandem has got the edge in speed.
Special teams: Alabama
Final Score Prediction:
Alabama 37,  LSU 28
Date
Year
Location
Alabama Rank
LSU Rank
Winner
Score
November 18
1895
Baton Rouge, Louisiana
LSU
12-6
November 29
1902
Tuscaloosa, Alabama
LSU
11–0
November 9
1903
Tuscaloosa, Alabama
Alabama
18–0
December 2
1904
Baton Rouge, Louisiana
Alabama
11–0
November 23
1907
Mobile, Alabama
Alabama
6–4
November 25
1909
Birmingham, Alabama
LSU
12–6
November 15
1919
Baton Rouge, Louisiana
Alabama
23–7
November 11
1920
Tuscaloosa, Alabama
Alabama
21–0
October 29
1921
New Orleans, Louisiana
Tie
7–7
November 10
1922
Tuscaloosa, Alabama
Alabama
47–3
November 16
1923
Montgomery, Alabama
Alabama
30–3
October 10
1925
Baton Rouge, Louisiana
Alabama
42-0
October 30
1926
Tuscaloosa, Alabama
Alabama
24–0
October 8
1927
Birmingham, Alabama
Tie
0–0
December 8
1928
Birmingham, Alabama
Alabama
31–0
November 15
1930
Montgomery, Alabama
Alabama
33–0
September 30
1944
Baton Rouge, Louisiana
Tie
27–27
October 6
1945
Baton Rouge, Louisiana
Alabama
26–7
November 9
1946
Baton Rouge, Louisiana
19
LSU
31–21
November 22
1947
Tuscaloosa, Alabama
8
Alabama
41–12
November 20
1948
Baton Rouge, Louisiana
LSU
26–6
September 29
1951
Tuscaloosa, Alabama
9
LSU
13–7
September 27
1952
Baton Rouge, Louisiana
Alabama
21–20
September 26
1953
Mobile, Alabama
5
Tie
7–7
September 25
1954
Baton Rouge, Louisiana
Alabama
12–0
September 28
1957
Baton Rouge, Louisiana
LSU
28–0
September 27
1958
Mobile, Alabama
15
LSU
13–3
November 7
1964
Birmingham, Alabama
3
8
Alabama
17–9
November 6
1965
Baton Rouge, Louisiana
5
Alabama
31–7
November 5
1966
Birmingham, Alabama
4
Alabama
21–0
November 11
1967
Baton Rouge, Louisiana
Alabama
7–6
November 9
1968
Birmingham, Alabama
20
Alabama
16–7
November 8
1969
Baton Rouge, Louisiana
12
LSU
20–15
November 7
1970
Birmingham, Alabama
19
11
LSU
14–9
November 6
1971
Baton Rouge, Louisiana
4
18
Alabama
14–7
November 11
1972
Birmingham, Alabama
2
6
Alabama
35–21
November 22
1973
Baton Rouge, Louisiana
2
7
Alabama
21–7
November 9
1974
Birmingham, Alabama
3
Alabama
30–0
November 9
1975
Baton Rouge, Louisiana
5
Alabama
23–10
November 6
1976
Birmingham, Alabama
15
Alabama
28–17
November 5
1977
Baton Rouge, Louisiana
2
18
Alabama
24–3
November 11
1978
Birmingham, Alabama
3
10
Alabama
31–10
November 10
1979
Baton Rouge, Louisiana
1
Alabama
3–0
November 8
1980
Tuscaloosa, Alabama
6
Alabama
28–7
September 5
1981
Baton Rouge, Louisiana
2
Alabama
24–7
November 6
1982
Birmingham, Alabama
8
11
LSU
20–10
November 5
1983
Baton Rouge, Louisiana
19
Alabama
32–26
November 10
1984
Birmingham, Alabama
12
LSU
16–14
November 9
1985
Baton Rouge, Louisiana
20
15
Tie
14–14
November 8
1986
Birmingham, Alabama
6
18
LSU
14–10
November 7
1987
Baton Rouge, Louisiana
13
5
Alabama
22–10
November 5
1988
Tuscaloosa, Alabama
18
13
LSU
19–18
November 11
1989
Baton Rouge, Louisiana
4
Alabama
32–16
November 10
1990
Tuscaloosa, Alabama
Alabama
24–3
November 9
1991
Baton Rouge, Louisiana
8
Alabama
20–17
November 7
1992
Baton Rouge, Louisiana
3
Alabama
31–11
November 6
1993
Tuscaloosa, Alabama
5
LSU
17–13
November 5
1994
Baton Rouge, Louisiana
6
Alabama
35–17
November 4
1995
Tuscaloosa, Alabama
17
Alabama
10–3
November 9
1996
Baton Rouge, Louisiana
10
Alabama
26–0
November 8
1997
Tuscaloosa, Alabama
14
LSU
27–0
November 7
1998
Baton Rouge, Louisiana
Alabama
22–16
November 6
1999
Tuscaloosa, Alabama
12
Alabama
23–17
November 4
2000
Baton Rouge, Louisiana
LSU
30–28
November 3
2001
Tuscaloosa, Alabama
LSU
30–14
November 16
2002
Baton Rouge, Louisiana
10
14
Alabama
31–0
November 15
2003
Tuscaloosa, Alabama
4
LSU
27–3
November 13
2004
Baton Rouge, Louisiana
17
LSU
26–10
November 12
2005
Tuscaloosa, Alabama
4
5
LSU
16–13 OT
November 11
2006
Baton Rouge, Louisiana
12
LSU
28–14
November 3
2007
Tuscaloosa, Alabama
17
3
LSU
41–34
November 8
2008
Baton Rouge, Louisiana
1
15
Alabama
27–21 OT
November 7
2009
Tuscaloosa, Alabama
3
9
Alabama
24-15
November 6
2010
Baton Rouge, Louisiana
5
12
LSU
24-21
November 5
2011
Tuscaloosa, Alabama
2
1
Rankings from AP Poll