What If The Phoenix Suns Were Never Sold to Sarver
Entering the 2004-2005 NBA season the Phoenix Suns weren't exactly a pick to make serious noise in the Western Conference. The previous season, The Suns who were lead by Stephon Marbury, Amare Stoudemire and Shawn Marion made an improbable run to the playoffs that was quickly dispersed in the first round. Although their exit wasn't something to be proud of, the fact that the franchise got back to the postseason was promising. Especially when you consider how young that Suns team was.
But the benchmark of success came with some sly maneuvering by General Manager Bryan Colangelo who a few seasons prior made an under the radar trade that proved to pay major dividends. Boston Celtics rookie guard Joe Johnson was traded to the Phoenix Suns along with guards Randy Brown, Milt Palacio and a first-round pick for veteran forward Rodney Rogers and guard Tony Delk on February 20, 2002.
In the NBA free agency summer of 2004 the Suns had to make a choice. Would they make a run at Los Angeles Lakers' Kobe Bryant. After trading point guard Stephon Marbury, the Suns freed up enough cap space to sign free agent guard Steve Nash away from the Dallas Mavericks to the tune of a 6-year, $65.6 million deal. Quentin Richardson was targeted next and eventually signed to a 6-year, $43.5 million deal. A move that this diehard Phoenix Suns fan in particular questioned. Nash was approaching the dreaded over-30 club and the Suns needed an explosive point guard. To me, it seemed a pipedream to achieve that goal with Nash at the helm. Little did I know.
The Suns would storm through the regular season, on pace to a 62-20 record and a Pacific Division championship. Nash, Stoudemire and Marion would all make the All-Star team. Coach Mike D'Antoni would win the Coach of the Year and newly anointed point guard Steve Nash, yes the same Nash I had my doubts about, would win his first of two (should've been three) Most Valuable Player awards. In addition, General Manager Bryan Colangelo would win Executive of the Year honors.
The playoffs brought more continued success to the hottest franchise in the NBA. They swept their first round series against the Memphis Grizzlies and continued on to the Western Conference Finals where they would meet the San Antonio Spurs and eventually lose that series decisively.
Despite their exit from the playoffs the Suns were the talk of the NBA. They adapted and introduced a fun, high octane offensive system that would famously be coined as "7 Seconds or Less". The system would produce high scores, large point differentials and production from players that reveled in the perfect marriage of D'Antoni's scheme and Nash's decision making.
Unfortunately this would mark the beginning of the end for the franchise's championship/dynasty aspirations. It would all start in 2004 actually, when in 2004, the Suns were sold to a group of investors led by present day owner Robert Sarver. Despite the sale GM Colangelo stayed on as President and GM. Shortly after the Raptors fired Rob Babcock in January 2006, rumors began swirling that the team was pursuing Colangelo despite the Raptors' claims that they were initiating an "exhaustive" search for a new GM. On February 27, 2006, Colangelo resigned from his position with the Suns, and on February 28, 2006, the Raptors announced him as their new President and GM.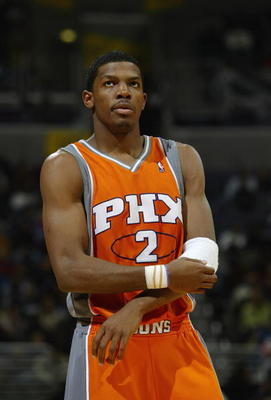 The penny pinching Sarver immediately impacted the Suns upward climb. Throughout the 2004-2005 season the Suns were at an impasse with guard Joe Johnson who was upset that they had not been able to reach an agreement on a multi-year contract that would keep him in the Valley of the Sun. According to reports, Johnson grew upset with Phoenix's initial offers to re-sign him feeling they were well below his market value. This would eventually lead to Johnson requesting that the Phoenix Suns not match and offer from the Atlanta Hawks which would total in $70 million offer. On August 19, 2005, a deal was finalized and Johnson was involved in a sign-and-trade deal with the Hawks for Boris Diaw and two future first-round draft picks.
"Joe Johnson made us aware of his personal desires which just didn't fit our model of building a team. We're sorry to see Joe leave and we wish him nothing but the best in Atlanta," Suns President and General Manager Bryan Colangelo said. "Despite losing Joe, we are pleased that we have acquired a young, talented player in Boris Diaw, two first round draft picks and additional flexibility to keep our building process moving forward."
Phoenix would use the first round pick to select Robin Lopez.
Consider the contract at the time in comparison to the contracts the Suns would sign over the years following Johnson's departure.
Hakim Warrick (2010) 4-year $18 million
Marcus Banks (2006) 5-year $21 million
Boris Diaw (2006) 5-year $45 million
Channing Frye (2009) 5-year $30 million
Josh Childress (2011) 5-year $33 million
Now take a look at the contract the Suns took on via major trades
Shaquille O'Neal (2008) $20 million per season
Vince Carter (2011) $18 million
Jason Richardson (2010) $14.4 million
Mickael Pietrus (2011) buyout for $4.2 million
Hedo Turkoglu (2011) 5-year $53 million
Marcin Gortat (2011) 5-year $34 million
It's easy to see that over the years the financial commitments the Suns traded and signed agreements to far outweighed the benefits of working a long term deal with Johnson. Gortat, Frye, Warrick and Childress all still remain on the Suns roster but only Gortat is a consistent starter. Frye is an occasional starter. Childress barely sees playing time and Warrick is a semi-contributor off the bench.
Sarver continued his cost-cutting efforts by doing what is now a laughable "staple" of the Phoenix Suns. Trading drafted players for cash. Now while Colangelo may be semi at fault for what happened with Joe Johnson, it's hard to buy into the assumption Colangelo approved over moving these drafted players (while he was there) for cash. Something Sarver installed and still employs today. Take a look at what the Phoenix Suns gave up for a suitcase full of cash:
Luol Deng (2004) traded to Chicago for rights to Jackson Vroman, cash and a future first round pick
Rajon Rondo (2006) Phoenix acquired Cleveland's 2007 first-round draft pick from Boston in exchange for Brian Grant, the draft rights to Rajon Rondo and cash considerations (Read)
Rudy Fernandez (2007)  The Portland Trail Blazers acquired guard/forward James Jones and the draft rights to guard Rudy Fernandez, whom Phoenix selected with the No. 24 pick, in exchange for cash considerations
But don't worry Suns fans, Sarver continued his genius work by deciding to commit to contracts with the following draft picks.
Alando Tucker, D.J Strawberry (2007)
Robin Lopez, Malik Hairston (2008)
Earl Clark, Taylor Griffin (2009)
Gani Lawal, Dwayne Collins (2010)
Only Robin Lopez remains on the Suns roster today. Tucker, Griffin, Strawberry, Hairston, Lawal and Collins aren't playing in the NBA currently.
It's easy to point to the bad moves Sarver made. But there have been some great pickups. For instance I was ecstatic with the signings of Grant Hill and Raja Bell. Bell would help the Suns come close to a Finals appearance a few seasons back before a controversial series exit at the hands of the San Antonio Spurs and our beloved David Stern. But Bell would be tossed aside as well, in the same manner talents like Johnson, Rondo and Deng were.
I refuse to include Gortat in the "great pickup" category because the Suns originally drafted him in 2005. So essentially, they paid to pickup their own garbage by parting with their scoring leader Jason Richardson.
What would have happened if Sarver let Colangelo build on his foundation. Look at the production of this team in their first full season of playing with one another.
Joe Johnson would become one of the NBA's best offensive scorers and almost single handedly lead the Atlanta Hawks franchise back to relevance. In hindsite, the financial investment that would have been required to retain Johnson would have had incredible returns, especially when you consider he would be teamed with the best point guard of our generation, Steve Nash.
Many of you would point to the successes of Boris Diaw who was acquired in that deal. But, as is the case with most players who play for the Suns, I question how much of his production was the product of playing with Steve Nash.
The Suns management has failed over and over again to build consistency in Phoenix. Sure there certainly were seasons that speak otherwise but again, most of this was the product of Steve Nash. Those of you who may want to debate me with Amare Stoudemire may have a point and I certainly agree to a degree that he was a major part of the success as well. But it still hinged on Nash who seems to have to take on more responsibility as he gets older.
Stoudemire was another instance of Phoenix stupidity. While I was hopeful the Suns would attempt to bring Amare back during his Free Agency tour in 2010 they horribly botched it two-fold. It's hard to imagine that the Suns did not have an inkling of the max-contract Stoudemire would be fielding, despite this they still held on to hope they would resign the forward.
When Amare landed in New York with the Knicks for 5 years and close to $100 million the Suns would claim that they couldn't justify investing that type of money in a player coming off of two micro-fracture surgeries. While that is certainly smart, what wasn't smart was what Phoenix did with the money it saved from not signing Stoudemre. They spent it on Warrick and Childress. Really?
Sure Amare is lazy, plays no defense and was a thorn in Steve Nash's ass for most of his time in Phoenix but if you're going to sell me on the idea that you could find a better way to spend the money, do better than Warrick and Childress. At least Stoudemire can score and rebound (occasionally) and at least Amare can boast an incredible "pick and roll" offense with Nash.
I sometimes look back at the Youtube videos of the Suns in their hayday and I wonder "What If". What if the Suns worked a contract out to keep Johnson in Pheonix? What if they kept defensive-soul Raja Bell? What if they held on to Deng and Rondo? What if David Stern didn;t screw them in the San Antonio series?
But what I can't stop asking myself s What If Robert Sarver never stepped foot in Phoenix? Would Colangelo have stayed? Would things be better? Worse?
I'd have to side with my theory that the Suns would have been better off riding towards the future with Amare, Nash and Johnson. Shawn Marion would have been a nice piece, but I failed to mention him because Marion wanted far more money than his value and was shipped out of Phoenix for voicing his frustrations for numerous seasons. That move actually worked out well for the Suns. But then again they did have to take on Shaq's ineffectiveness and his bloated contract. So was it that great of a deal?
Today, I look at the Suns roster which is a shell of what it once was. Steve Nash still has fuel in the tank but that tank is low on gas. Last year I blogged that the Suns should trade Nash. If you go back to that 2011 article I made similar points I am making here. I can't believe I am sitting here almost a year later making the same plea. Give the man a chance at a ring and trade him. You owe him that much and you owe us Suns' fans the courtesy of not watching an all-time great break down right before our eyes. Nash is one of the few players I have ever been a fan of (aside from Charles Barkley) that I would root for on another team during a championship run, simply because I am such a fan of that player I would find happiness seeing them win it all.
But we will see more of this from Nash, the Suns players stuck in Sarver-hell and the fans.
It's truly sad because I felt that the Suns were capable of being not only a championship team but a dynasty. We wasted one of the greatest point guards to ever play the game. Nash evolved the game the same way John Stockton, Bob Cousy, Magic Johnson, Oscar Robinson, Jason Kidd, Walt Frazier, Tiny Archibald and Gary Payton did.
It's a shame that the Suns are listed in this "What If" rather than the record books as NBA Champions. Unlike my prior article about the Sacramento Kings this article doesn't have a conclusion. Unfortunately we have to rely on Sarver's moves to write that for us. Needless to say I am not confident this will ever have a happy ending.