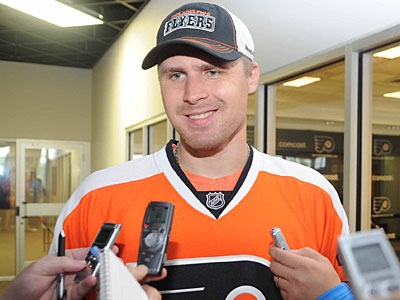 In a year where the Flyers and their fans thought that they had finally answered the goaltending issue the month of December arrived and yet again, the Flyers were battling bad goaltending. And now, what seemed more like a comedy routine than an impromptu news conference in the Flyers' locker room at Citizens Bank Park on Sunday, Ilya Bryzgalov revealed that backup Sergei Bobrovsky would be the team's starting goalie in Monday's Winter Classic against the New York Rangers.
So for the biggest star of HBO's 24/7 the universe might be humongous but the net still only has room for one guy, and for the Winter Classic that won't be Ilya Bryzgalov or at least according to Bryzgalov that is.
Coach Peter Laviolette says he's not ready to make a decision on who will be starting in tomorrow's Winter Classic game against the New York Rangers. CSNPhilly.com's Tim Panaccio suspects that Flyers goalie coach Jeff Reese let the goalies know what was up and Bryzgalov ran with the new information. For what it's worth, Sergei Bobrovsky didn't say anything about whether he was starting or not.
Bobrovsky got the start in Philly's last game against Pittsburgh, playing well in a 4-2 win over the Penguins. He's played strongly of late and coach Peter Laviolette riding the hot hand and rewarding the guy who's playing well makes plenty of sense. Now we'll get to see how Bobrovsky handles the spotlight of being "the man" even for just one very high profile game.
Will the fate of Bryzgalov's universe rest in the hands of Bobrovsky's play tomorrow during the Winter Classic? It surely could come down to that and Bryzgalov's smile may quickly fade as the 51 million dollar goalie lands himself a place on the Flyers bench.