I grew up with this game series, literally. I remember playing John Madden Football in 1988 as a 6 year old. I didn't understand football, but was a fun game to play. Then it became a tradition in my household after John Madden Football became Madden NFL in 1994 and every years since the game became an annual fixture on the Sega Genesis in 1991-92, it was the Christmas gift my brother and I collectively received every single holiday.
The game became a cult sensation making many revolutionary strides as it evolved with every console. From the Madden curse to the hit-stick technology I was engaged 100% in Madden. But then the franchise, for me became a little stale and I didn't purchase a Madden game after 2008. Until Madden 2013 came out.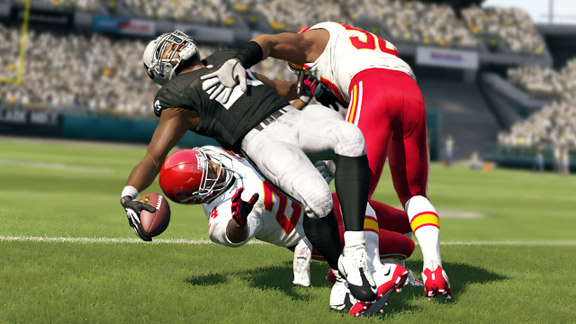 Here are my thoughts on some improvements and other things I liked/disliked about the game:
Commentating
I'm old school, I still miss Madden & Summerall in the game but I am thankful Chris Collinsworth is no where near this game. One of my favorite announcing teams on gameday is Phil Simms & Jim Nantz, so I was happy to see them in the game. Great addition and enough variations on their dialogues to keep it from getting too stale.
Game Play
It's always a challenge to pass in this game and I like how Madden has made a big effort to prevent users from finding a certain play that is always successful.
The physics that EA has implemented in the game looks crisp but still has the same flaws as other games in the Madden series. The Infinity Engine improves tackle animations and the outcome of player interactions including a balance system. But still I found a couple instance of arms going through another players helmet, etc. Although it's dramatically reduced in this game, you see it from time to time.
EA promised enhanced A.I playcalling for two-minute drill, goal line, clock draining, and red zone situations and they certainly delivered on all accounts. Things tighten up in critical moments and it really takes the game to another level.
Neither receivers nor defensive backs react to a ball unless they are expecting it and that is a BIG improvement to the game adding a realistic element that was sorely needed.
Franchise Mode
I have a big issue with Franchise mode and it seems a lot of longtime Madden fans are infuriated by the changes EA made. While touting the most extensive and in-depth franchise mode ever, it subtracted some popular elements. No longer can you create players and put them on a team and carry them into your Franchise Mode. So if you and your buddies want to put yourselves on the same team and go through a Franchise like you did in prior Madden games, it's no longer an option. You also can no longer edit players. Not a big deal in my book but I don't see the sense in eliminating it completely.
I did like the Connected Careers, both as a Coach and as a Player. But the Player is only useful is you're a QB. In my opinion, the Coach mode is the best because it's more in-depth with unique storylines for every single player you coach and draft. It also allows you to control the defense and offense during the entire game. Every move you make as a Coach tremendously impacts your franchise. Your decisions can lead the tam to fire you or retain you. It also can impact how you can impact free agency, handle retirements and the development of the players on your team
I like how EA is pushing for Online Leagues and Online Play. I think it's vital to the game's continued success. But I would rather them keep popular features that were the foundation of the game for years. I had the same issue when 2K took out online multi-player options for the Association mode. Makes no sense to take it away when it was clearly popular.
Game Face
Everyone wants to be a star in the game, but some of us aren't artists. No longer do we have to sit in front of the TV trying to create our likeness when creating a player. Now you can simply go on to EA Sports website, upload a webcam photo and download a digital likeness to your Madden game.
It's not perfect, but it's a great first step. I anticipate this to evolve year after year to the point where you actually are in the game and every detail of you is illustrated.
Overall
Overall, I appreciate the perspective I have when playing this game. I played 2011 for a bit, maybe a month, but it seemed like a rushed product. I got the game by accident when a store clerk put the wrong used game in the package. 2012 was my return to buying the game and investing time into it. It was a good purchase to say the least.
It's creative, engaging and can be addicting. The only major drawback for me, being a long time Madden player, is the lack of the Franchise mode that the game had for years. I understand change is good, but I don't see the issue in keeping this element in the game, nor do i see sound reasoning to eliminate it completely. Although I am not as outrages as many fans are (click here), It hurts the game's overall rating in my eyes.
The Deviant Gamer Score = B+
[youtube https://www.youtube.com/watch?v=5D8UEqbhhEk]