I grew up with this game series, literally. I remember playing John Madden Football in 1988 as a 6 year old. I didn't understand football, but was a fun game to play. Then it became a tradition in my household after John Madden Football became Madden NFL in 1994 and every years since the game became an annual fixture on the Sega Genesis in 1991-92, it was the Christmas gift my brother and I collectively received every single holiday.
The game became a cult sensation making many revolutionary strides as it evolved with every console. From the Madden curse to the hit-stick technology I was engaged 100% in Madden. But then the franchise, for me became a little stale and I didn't purchase a Madden game after 2008. Until Madden 2013 came out.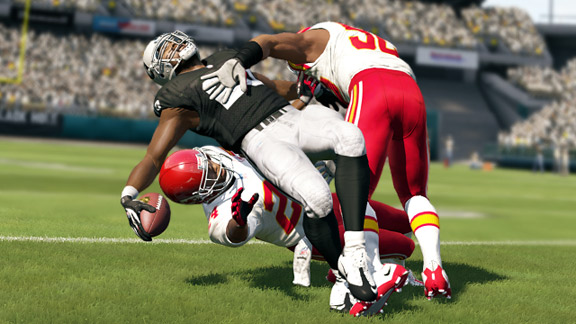 Here are my thoughts on some improvements and other things I liked/disliked about the game:
Commentating
I'm old school, I still miss Madden & Summerall in the game but I am thankful Chris Collinsworth is no where near this game. One of my favorite announcing teams on gameday is Phil Simms & Jim Nantz, so I was happy to see them in the game. Great addition and enough variations on their dialogues to keep it from getting too stale.
Game Play
It's always a challenge to pass in this game and I like how Madden has made a big effort to prevent users from finding a certain play that is always successful.
The physics that EA has implemented in the game looks crisp but still has the same flaws as other games in the Madden series. The Infinity Engine improves tackle animations and the outcome of player interactions including a balance system. But still I found a couple instance of arms going through another players helmet, etc. Although it's dramatically reduced in this game, you see it from time to time.
EA promised enhanced A.I playcalling for two-minute drill, goal line, clock draining, and red zone situations and they certainly delivered on all accounts. Things tighten up in critical moments and it really takes the game to another level.
Neither receivers nor defensive backs react to a ball unless they are expecting it and that is a BIG improvement to the game adding a realistic element that was sorely needed.
Franchise Mode
I have a big issue with Franchise mode and it seems a lot of longtime Madden fans are infuriated by the changes EA made. While touting the most extensive and in-depth franchise mode ever, it subtracted some popular elements. No longer can you create players and put them on a team and carry them into your Franchise Mode. So if you and your buddies want to put yourselves on the same team and go through a Franchise like you did in prior Madden games, it's no longer an option. You also can no longer edit players. Not a big deal in my book but I don't see the sense in eliminating it completely.
I did like the Connected Careers, both as a Coach and as a Player. But the Player is only useful is you're a QB. In my opinion, the Coach mode is the best because it's more in-depth with unique storylines for every single player you coach and draft. It also allows you to control the defense and offense during the entire game. Every move you make as a Coach tremendously impacts your franchise. Your decisions can lead the tam to fire you or retain you. It also can impact how you can impact free agency, handle retirements and the development of the players on your team
I like how EA is pushing for Online Leagues and Online Play. I think it's vital to the game's continued success. But I would rather them keep popular features that were the foundation of the game for years. I had the same issue when 2K took out online multi-player options for the Association mode. Makes no sense to take it away when it was clearly popular.
Game Face
Everyone wants to be a star in the game, but some of us aren't artists. No longer do we have to sit in front of the TV trying to create our likeness when creating a player. Now you can simply go on to EA Sports website, upload a webcam photo and download a digital likeness to your Madden game.
It's not perfect, but it's a great first step. I anticipate this to evolve year after year to the point where you actually are in the game and every detail of you is illustrated.
Overall
Overall, I appreciate the perspective I have when playing this game. I played 2011 for a bit, maybe a month, but it seemed like a rushed product. I got the game by accident when a store clerk put the wrong used game in the package. 2012 was my return to buying the game and investing time into it. It was a good purchase to say the least.
It's creative, engaging and can be addicting. The only major drawback for me, being a long time Madden player, is the lack of the Franchise mode that the game had for years. I understand change is good, but I don't see the issue in keeping this element in the game, nor do i see sound reasoning to eliminate it completely. Although I am not as outrages as many fans are (click here), It hurts the game's overall rating in my eyes.
The Deviant Gamer Score = B+
[youtube https://www.youtube.com/watch?v=5D8UEqbhhEk]
EuroBasket 2017: thanks for the show, new generation
The shift of generations always comes at some point, but I didn't expect that it would come right now and in the way it did.
I fell in love with all of the youngsters already in the group stage when the round robin games occurred in Helsinki, Finland.
Finland, the host nation of the group stage games, had the talented Lauri Markkanen, drafted by Chicago Bulls, as their attraction number one for the basketball world and for the home crowd.
With his power and his look from the 1970's he charmed everyone and brought Finland to playoffs. During the preliminary round they only lost against Slovenia, and that by very few points. They defeated Turkey, Greece, Iceland, Poland, and France.
That says a lot how much Finnish basketball has evolved the last years. But, Italy was too heavy for them in the 1/8 final, and the Finnish wonder journey ended there.
Besides Markkanen, there were Luka Doncic and Goran Dragic in Slovenia who played extremely well all the way to the final.
Together with their older teammate Gasper Vidmar, they outplayed and crumbled Spain totally in the Semi-finals, in a way no one could have expected before the referee tossed the ball in the middle.
Most likely I can't have been the only one who rubbed the eyes after 2 quarters in that game.
Spain, on their hand, trusted too much in the Gasol brothers. Hernandez and Rubio were too exposed to make any difference and were stunned by the Slovenian super-trio and the other players like Prepelic and Dimec, who also showed that they can play high-level basketball.
Alexander Djordjevic had no other option than trusting the team he could gather before the journey to Helsinki and then to the knockout rounds in Istanbul.
Serbia had so many injuries among the big names like Teodosic, Bjelica, and Raduljica. Stefan Markovic, who only just turned 28, announced that he will retire from International basket.
The expectations that usually come from a medal in the Olympic Games were reduced least by 50 % among the fans and experts. No, Serbia will be excluded way earlier than the final was a common conclusion.
But Coach Djordjevic who singlehandedly himself 20 years ago crushed the Lithuanians in the final of EuroBasket 1996 (I remember this well as if it were yesterday) gave the trust to Bogdan Bogdanovic, Stefan Jovic, Vladimir Lucic, Dragan Milosavljevic and Boban Marjanovic
Not only them of course, as we shall not forget a player such as Milan Macvan.  They showed definitely to the whole of Europe that things were otherwise, that there is a genuine basketball team. It was not just a bunch of missing names, but also the participating ones would defend the Serbian basketball pride more than well.
And, they did, in a way, no one could have thought before, led by Bogdanovic who demonstrated that he is the next superstar for real, a reliable player that Djordjevic can trust 40 minutes of a game.
In the final game, a battle between two Balkan countries who were once brothers when they were united as Yugoslavia was fought bravely for the shiniest medal.
And what a battle!
I thought myself for a long time between the 2nd and 3rd quarter that it would go to OT. But Slovenia at the end, without an injured Doncic, shaped themselves up and took back the lead they had lost for a moment.
With important points at the end of the game by Prepelic and Randolph and a re-woken Dragic who had some scoring issues from time to time during the 3rd and 4th quarter, they finally reached the championship of EuroBasket for the first time in their history!
Overall, it was also the most righteous victory as well, considering that the Slovenes outnumbered the former superior champions from Spain.
Hvala i cestitam (thank you and congratulations) Slovenia for a tremendous basketball show and we will look forward to adventures with this team in the coming years, in World Cup and the Olympics.
To the last:
I don't know the deepest motivation for this Slovenian team except for the gold medal in a major tournament as the EuroBasket, but, perhaps they wanted so much to give a small country with a small population and big heart for sports something to enjoy greatly.
Most of all, something to remember as long as they live.
A champion needs a motivation above and beyond winning.
-Pat Riley, a Coach, born 1945 –
Highlights of the EuroBasket:
1.    The youngsters Luka Doncic, Goran Dragic, Lauri Markkanen, and Bogdan Bogdanovic.
2.    Slovenia and Serbia showed that there are a huge, huge basketball culture in the area, fantastic teams, and performances from both teams.
3.    Finland who made no one disappointed as host nation but most of all, they show that they evolve all the time and have the capacity to beat any team, any day with the right temper.
4.    Latvia ended up as the best team of the Baltic countries. For a long time, it has only been Lithuania. A very nice surprise and they were so close to defeating Slovenia in the earlier playoff rounds.
5.    Fantastic fans from all countries who have been chanting, singing and cheering. A total basketball party as a sporting event of this significance always should be.
TitanFall Proves to be TitanFail
Yesterday I picked up TitanFall, a game I had been anticipating for quite some time. Since I am currently doing all of my gaming on the XBox360, my wait was a little longer. The game, originally slated to come out for Xbox 360 March 27th was pushed back to April 8th.  So, my excitement for this release was growing for some time.
I have heard all of the hype around this game, "the Future of Multi-player gaming" and the constant touting of it's numerous gaming awards. How on Earth can something with so much hype, so many accolades and so much chatter surrounding it's release NOT live up to expectations?
In Titanfall, players fight as mech-style Titans and their pilots in six-on-six matches set on a war-torn planet. The game's action is fast-paced, with wall-running pilots, gameplay optimized for continual action, and when including the artificial intelligence, up to 50 active characters in a game
I started as most did when first playing TitanFall, through the training mode. Although this was a bit boring at certain points as it seemed to drag on longer than needed, it furthered my excitement to jump into real action. Everything seemed rather bad ass. Wall Running. The ability to absorb and redeploy enemy fire. Assassination/Execution ability. The chance to level up. And a pretty badass Titan.
Yep, seemed like this game was primed to take a good chunk of my free time.
But then I entered the gameplay, in "Campaign" and this is where this game failed on every level.
Sure the action is intense and your abilities make it fun and interesting, but that only lasts a few minutes as you realize there is absolutely no effort to telling any kind of story with this game. None. Zilch.
I had no clue of any objectives, a reason to why I was doing what we were doing and the only thing that seemingly differentiated one stage from the next was the environment. I leveled up but had no clue what exactly contributed to my leveling, how XP was gauged or how on Earth I could see upgrading anything regarding my Pilot or my Titan.
Grant it, I played this for a a little over an hour and reached Level 4, so I could have gave up before things drastically changed. But this game gave me no incentive to continue playing.
It's repetitiveness dulled my experienced. It bored me. It forced me to turn off the game and I haven't turned it back on since then.
To me, TitanFall seems better suited in an arcade. Even though arcades are pretty much extinct nowadays, this is the type of style that fits an arcade machine perfectly. Something you can spend 5-20 minutes on with a few friends. No storyline. Very to the point and straightforward. But as a console game this seemed like a lazy effort.
If this is "the future of Multi-player gaming" then that future is grim.
I suggest TitanFall look at Borderlands before making that claim ever again. It may behoove them to try being the least bit creative with a story. While Halo 4 can be repetitive, there are so many layers to the gaming experience that any repetitiveness is easily forgotten.
Hence why TitanFall was a Titanic Failure. I'll give this game another try some day and maybe I'll change my tune, but i highly doubt it.
[youtube https://www.youtube.com/watch?v=KPm_GeGIUZs]