Baseball's Paradoxical 1996 Season
In the 1996 MLB season, we saw the Cleveland Indians end the year with the best record in the bigs at 99-62 (played just 161 games) and eventually the New York Yankees winning the World Series in a 4-2 series win over the Atlanta Braves.  However the thing that caught my eye was neither the Indians or Yankees, or even any players on either of those teams.  Instead, it was a 20 year old Seattle Mariner and 39 year old Minnesota Twin. Those players, of course, are Alex Rodriguez and Paul Molitor who were both among the youngest/oldest players in the league respectively.
In that 1996 season, we saw the 20-turning-21 year old Alex Rodriguez become the 2nd youngest player since 1955 to have a season with a batting average of at least .300 and at least 100 runs batted in (Al Kaline in 1955 recorded such a season a few months younger than Rodriguez in '96).  A-Rod turned in a slash line of .358/.414/.631 and an OPS of 1.045; he also recorded 215 hits, 36 home runs and 123 RBI's while scoring 141 runs.  Rodriguez finished 2nd in MVP voting behind Juan Gonzalez by a slim margin while getting an All-Star bid and a Silver Slugger award.
** Alex Rodriguez' '96 season is just one of 7 such seasons by a player younger than 25 years old
Also in 1996, Paul Molitor turned in the same sort of season, kind of.  Molitor's slash line of .341/.390/.468 and OPS of .858 are all less impressive than A-Rod's, as well as his 9 homers and 113 RBI's.  Molitor did, however, drop in 225 hits to best Rodriguez in that category.  However, Molitor's season is all the more impressive when you remember he was turning 40 that same year.  Molitor was the second oldest player ever to record a .300+ BA and 100+ RBI's season since 1955, as Barry Bonds was about 1 month older in 2004.  His performance at the plate also earned him a Silver Slugger award.  Another oddity about Molitor's season is that his 9 home runs was the 2nd least amount of homers slugged in such a season since 1955 (Tom Herr hit only 8 in 1985).
** Paul Molitor's '96 season is just one of 17 total such seasons by players over 35 years old
Where the strong paradox comes in, as I'm sure you have noticed by now, is that both the 2nd youngest and 2nd oldest players ever to record seasons of .300+ BA and 100+ RBI's came in the same season.  1996 gave baseball fans a peak into the future with stars like Alex Rodriguez busting onto the scene, but also gave a reminder that the past wasn't done yet in future Hall of Famer Paul Molitor's impressive year.  Seeing both Rodriguez and Molitor put on hitting displays in their own ways is also paradoxical.  Rodriguez displayed hitting finesse with power while launching those 36 home runs, which is exactly 4 times as many home runs as Molitor hit.  However, Molitor knocked in 113 RBI's which was just 10 less than Rodriguez.  Molitor's singles approach worked just as effectively as A-Rod's power swing, yet just appeared less spectacular.
It is also important to note that the 1996 season saw 25 other players hit over .300 and drive in more than 100 runs, with names including Andres Galarraga, Albert Belle, Juan Gonzalez and Mo Vaughn leading the RBI category for such players. In fact, 1996 saw the 4th most players with such a season (27) in MLB history (only the years 2000, 1930 and 1990 saw more).  It is also worth mentioning the likelihood of these kinds of seasons seems to be dwindling down as 2013 saw just 5 players reach the feat, 2014 only saw 3 and 2015 only had 1 (Paul Goldschmidt).
At the end of the '96 season, new age fans got what they wanted and the fans of traveled veterans got their entertainment as well.  It is significant that we saw multiple players produce such seasons in the same year, but even more so when it includes some of the youngest, and oldest, players ever to do so.
** All stats included in this piece are from Baseball Reference's Play Index **
Twins' Miguel Sano Arrested in Dominican Republic
Minnesota Twins third baseman Miguel Sano was arrested in the Dominican Republic early Sunday morning following an incident that left one police officer with a broken leg.
According to a police report, Sano, 25, ran over an officer's foot during an incident outside a nightclub in San Pedro de Macoris, per ESPN.
"The Minnesota Twins have been made aware of a situation involving Miguel Sano recently in the Dominican Republic," team spokesman Dustin Morse said in a statement. "The facts of the incident are not completely available right now but the club is in the process of gathering as much information as possible."
Sano has been making headlines recently for all the wrong reasons. Back in December, Sano was accused of sexual assault by a female photographer, but no charges were filed and MLB didn't levy any punishment.
#MeToo Movement Hits Major League Baseball: Twins Slugger Miguel Sano Accused Of Sexual Misconduct
Ever since the bombshell October report detailing disgraced Hollywood film producer Harvey Weinstein's disturbing sexual assault allegations, many women (and men) have come forward detailing their experiences of abuse, as the hashtag #MeToo has become a phenomenon on social media.
While Hollywood entertainment and politics have been plagued the most by #MeToo in the Weinstein aftermath, the movement has officially hit Major League Baseball.
The suspect in question? Minnesota Twins slugging third baseman Miguel Sano.
On Thursday, Betsy Bissen- a former photographer for TwinsDaily.com- posted the following message on her then-public Twitter account detailing a 2015 experience with Sano:
As of Friday, Bissen's Twitter account (@BitzyBetsy) has been made private (quite possibly due to harassment from trolls); she's also changed her profile picture to a simple message of "Be Bold".
In Bissen's post, the now 37-year-old recalled meeting Sano at an autograph signing event at a mall store she volunteered at. She said she "didn't reciprocate" Sano's flirtatious actions during the event; and when the signing was over, Sano allegedly grabbed Bissen's wrist and made her go to an Apple store with him, his agent, and Bissen's employer within the same mall; Bissen said she "didn't want to cause a scene" so she "just went along."
Here's what happened next. After about a half-hour at the Apple store, it was time to leave. As Bissen and Sano headed toward the back of the store where their ride was parked, Sano "decided" he needed to use the bathroom; and because Bissen was standing "too close" to Sano, it was a sign that Bissen "wanted him to grab me and try to take me back thru (sic) that door," she wrote.
This is when the alleged assault occurred. According to Bissen, Sano attempted to kiss her- "more than once"- while trying to force her through the bathroom door. Bissen recalled struggling for 10 minutes, screaming for help, before Sano finally "gave up."
"No, he didn't rape me, but he sure did assault me," Bissen wrote. "When I said no, it should have been the end of it. He should have respected that and stopped. Instead, he hurt me and kept going."
Bissen recalled how her body was completely sore the next day from "having to fight off this athlete that thought he was entitled to take advantage of me against my will."
Sano, who's 6'4" and 260 pounds, denied the allegations, issuing the following statement through his agent:
"I unequivocally deny the allegation made against me today- it never happened. I have the utmost respect for women, especially those working in professional sports, and I deeply sympathize with anyone who has experienced sexual harassment. There is no place for it in our society."
The Minnesota Twins issued their own statement as well:
"Today, the Minnesota Twins were made aware of allegations involving Miguel Sano at an offsite appearance during the 2015 season. The Twins, along with Major League Baseball, take these allegations very seriously. Until more information is gathered, the Twins will have no further comment."
According to Yahoo.com's Jeff Passan, the allegations against Sano aren't surprising; at least according to five unnamed individuals. Here's what he wrote:
"This was a perfect example of that terrible decision-making, because while Sano might have a lot of things, the utmost respect for women is not one of them, according to five people, including teammates, ex-teammates and confidants, with whom he has spent time. Though none accused Sano of sexual assault or could confirm Bissen's account of the story, they characterized him as someone who saw the pursuit of women as sport. Getting in trouble for it 'was only a matter of time,' said one person familiar with Sano, whom he called 'a ticking time bomb.'"
Trevor Plouffe, Sano's teammate from 2015-16, replied to Bissen on Twitter:
I'm so sorry about this. I understand why you didn't, but I wish you would have come to me.

— Trevor Plouffe (@trevorplouffe) December 28, 2017
Perhaps Plouffe had been one of the five people who knew about Sano's apparent disrespect for women before Bissen's post swept social media. Perhaps he's the one who referred to Sano as a "ticking time bomb." Of course, that's just speculation. Maybe Plouffe and Bissen even had a friendly relationship together.
Obviously, this is a very serious allegation. We will have to see how it plays out in Major League Baseball's investigative process. "We are aware of the allegations and are now in the process of looking into it," said MLB spokesman Mike Teevan.
Bissen ended her Twitter post by writing, "Every time I have to hear about how great people think Miguel Sano is, I'm reminded of how awful he actually is and how he hurt me."
As the old saying goes, innocent until proven guilty; but with the apparent lack of surprise from the five unnamed sources in Passan's article, in the 24-year-old Sano's case, this could very well be guilty until proven innocent.
It's Time For Major League Baseball To Extend Protective Netting In All Stadiums
It was a scary scene this past Wednesday afternoon in the Bronx, as a young girl was struck in the face by a 105-mph foul ball off the bat of Yankees third baseman Todd Frazier.
Frazier's reaction said it all: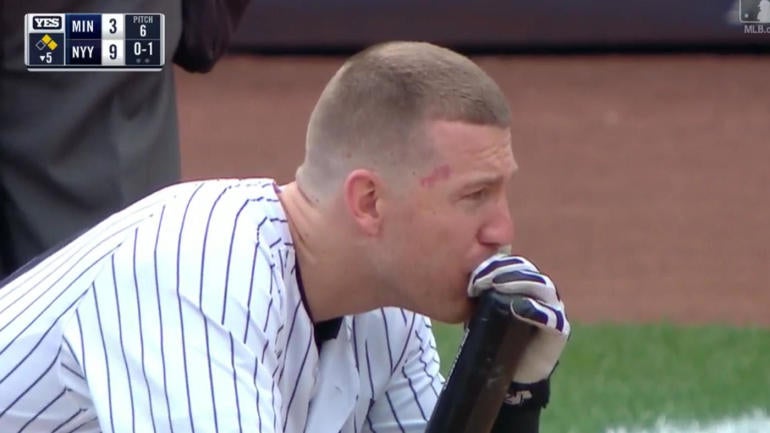 Teammate Matt Holliday—who was on base—was brought to tears:
Medical personnel attended to the child moments after she was struck, causing a four-minute delay in the game. She was then escorted to New York-Presbyterian Morgan Stanley Children's Hospital.
Just a frightening and unfortunate situation. The fact that it happened to someone this young makes it even worse. Truly horrifying.
The Yankees won the game 11-3 to the Minnesota Twins, but everyone's main concern following the game was the well-being of the girl.
This tweet by Yankees shortstop Didi Gregorius spoke for everyone involved:
Hope everything is alright with the little girl that got hit with the foul ball … her thoughts are with us for a speedy recovery

— Sir Didi Gregorius (@DidiG18) September 20, 2017
Twins second baseman Brian Dozier didn't hold back with his opinion on how similar events can be avoided in the future:
Brian Dozier calls for mandatory protective netting after Yankee Stadium foul ball hits young fan. https://t.co/Ggyk1zVixe

— Mike Berardino (@MikeBerardino) September 20, 2017
"Either one, you don't bring kids down there, or number two, every stadium needs to have nets. That's it. I don't care about the damn view of a fan or what. It's all about safety."
Thankfully, Yankees manager Joe Girardi said the girl was doing "OK" following the game, after hearing from security personnel.
On Thursday, Frazier spoke to the girl's father on the phone. Following an early batting practice session Friday afternoon at Rogers Centre, Frazier filled in reporters on the call:
"I talked to the dad and she is doing good. He is a very nice guy and we had a five-minute conversation. I told him I was going to call every day and he said that would be good.''
This isn't the first time this year a fan has been injured at Yankee Stadium. In May, a piece of Chris Carter's broken bat struck a young boy in the head, and in July, a man's head was wrapped in bandages after being struck by a 105-mph drive off the bat of Aaron Judge. Luckily, those two fans ended up okay.
Not once, not twice, but THREE times someone has been struck this year at Yankee Stadium—and the Yankees still haven't addressed what they plan to do regarding protective netting inside their ballpark. Are we going to have to wait for someone to die until something's done about this in the Bronx? (UPDATE: the Yankees announced their plans to extend their protective netting for 2018 on October 1, per CBS News and other sources.)
One day after the latest near-tragedy, four teams—the Reds, Padres, Mariners, and Rockies—announced they will extend their protective netting for the start of the 2018 season.
Back in 2015, two instances at Fenway Park forced the Boston Red Sox to extend their netting dugout-to-dugout for the 2016 season. In June, a 44-year-old woman named Tonya Carpenter was struck in the face with a piece of Brett Lawrie's broken bat. Her injuries were initially life threatening, but she survived the freak accident. Check out how bad it looked:
A little more than a month later, Stephanie Wapenski required more than 30 stitches after getting hit in the forehead with a foul ball off the bat of Didi Gregorius: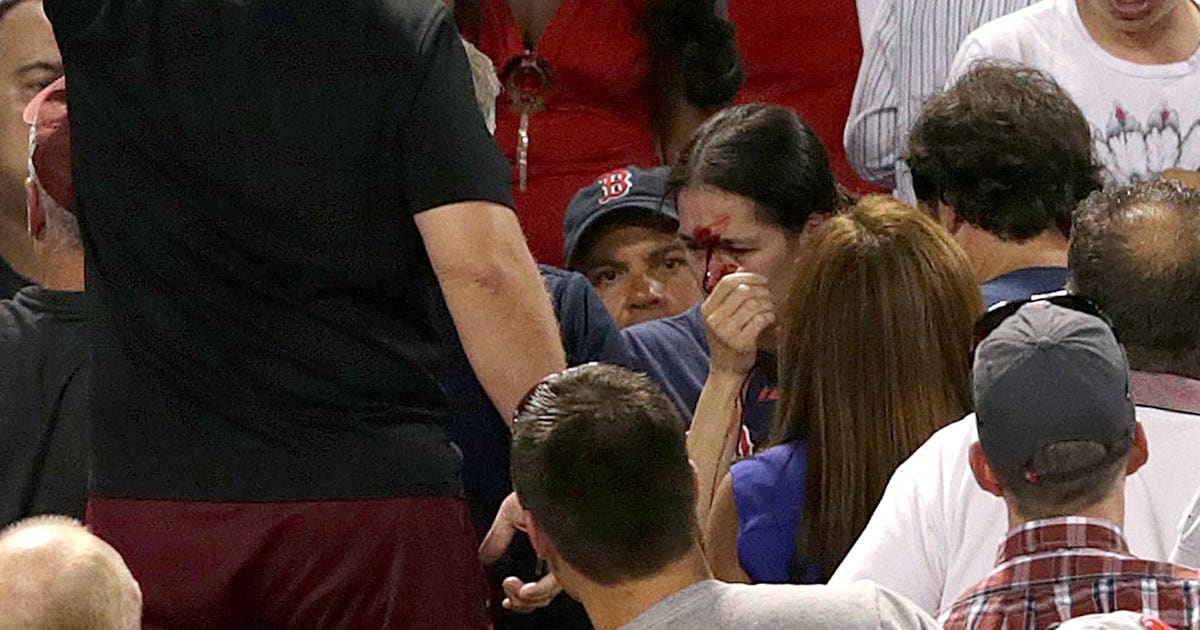 The Red Sox made sure their problem was fixed after two accidents too many in a five-week stretch made it pretty clear they had to do something. Now it's the Yankees' turn. There's no excuse for them not to get something done in time for 2018.
This goes for every club across the majors as well.
It should go without saying—the latest incident in the Bronx should serve as a wake-up call to all teams that haven't yet extended the protective netting inside their stadiums. This problem needs to end before someone gets killed. Enough is enough already. Extend the netting to at least the end of each dugout. Problem solved. A few teams have already done that. Good on them, now time for everyone else to follow suit.
"But it will obstruct the view!"
"Pay more attention then!"
Of course, these are two basic arguments any given person can make who are opposed to extending the netting. Both are silly. For the first one—if you don't want your view obstructed, don't sit in an area where it would be. Or hell, just watch the game on TV. For the second—100-mph foul balls coming at you, or pieces of a broken bat, can still strike you even if you are in fact "paying attention". Just think of how fast those are coming in hot. Very little reaction time. Think of what's going on in someone's mind too if danger like that is approaching them. Sometimes, things like this just happen.
And that's why Major League Baseball needs to extend its netting in ALL stadiums. Fan safety must be the number one priority.
Miami Marlins relief pitcher Brad Ziegler trolled fans on Twitter who don't believe the extending of protective netting is necessary with these two tweets on Friday:
A note to anyone complaining about teams extending netting and not wanting to "pay for an obstructed view": stay home. pic.twitter.com/CpbXDkjcLp

— Brad Ziegler (@BradZiegler) September 22, 2017
Appreciate the dialogue and response from everyone. A few of my light-hearted observations on a very serious topic… #ExtendTheNets pic.twitter.com/lOyrOj6cb5

— Brad Ziegler (@BradZiegler) September 22, 2017
Where does MLB commissioner Rob Manfred weigh in on all of this?
"The events at yesterday's game involving a young girl were extremely upsetting for everyone in our game. Over the past few seasons MLB has worked with our clubs to expand the amount of netting in our ballparks. In light of yesterday's event, we will redouble our efforts on this important issue," Manfred told Bob Ley of ESPN following Wednesday's incident.
Hopefully in the coming days and weeks, more teams announce plans to extend their protective netting. It's something I expect. Forget pace of play (looking at you Manfred), fan protection is the biggest issue in Major League Baseball right now. It's time for more changes, and less accidents in the stands.