Yankees Pull Closer In AL Wildcard Race
The Yankees have been inching closer in the AL wildcard race, they are now 3.5 games behind the Baltimore Orioles. By significantly closing the gap on teams ahead of them the Yankees have given themselves a great chance to be in the wildcard playoff game.
They have the Houston Astros, Detroit Tigers and Kansas City Royals in front of them in the win column and these teams can be problematic to the Yankees success. The Yankees need to win this series against the Royals to gain a game, and some momentum in the last 31 games of the regular season. This series is currently tied 1-1.
In their past 3 series against the Angels, Orioles and Mariners the Yankees have been able to win each one of them. Taking 2 games out of each series is a great way to battle back in the standings. By doing this the Yankees moved past the Mariners in the wildcard standings.
The Yankees have to keep the pressure on these teams and they are doing that by winning multiple series. In these series wins the games they have won were by a large margin. Hitting in situations with runners in scoring position has helped the Yankees in a big way.
In the series they played against the Angels in the two games they won in that series the combined run total was 12 while the Angels scored only 1 run. In the series against the Mariners in two games the Yankees scored 10 runs while the Mariners scored 1 run.
Again in their most recent series win the Yankees against the Orioles in the two games they won they had a combined 27 runs. The Orioles would score 9 runs in those two games. The Yankees have the ability to be explosive especially now with their young players starting to flourish in their lineup.
The greatness that has been displayed by Gary Sanchez is really what the Yankees needed during the rest of this season. The Yankees really made the best move by giving him the green light on August 3rd and it has been paying off for the team.
Right now he has a batting average of .383 while hitting 11 home runs and 21 RBI's. Sanchez is an incredible player and his talent has contributed to his meteoric rise to one of the best rookies and players in baseball. He is just one piece of a great team that is being formed in the Bronx.
After this series against Kansas City the Yankees will have one more series out of their division in mid September against the Los Angeles Dodgers. 27 of their last 30 games will be against teams in the AL East. They will need to keep the pressure on their division because every team is dangerous.
The Red Sox, Orioles and Blue Jays are ahead of the Yankees in the standings and that already a disadvantage for the team. The most dangerous team to the Yankees wildcard chase is Tampa Bay. Tampa Bay is close to being mathematically eliminated from playoff contention because they are one of the worst teams in the league.
They could play spoiler to the Yankees if they win most of the games they have left against each other. The Yankees should be able to take advantage of those 3 and 4 game series against Tampa Bay by playing well, and winning those games.
Yankees, Red Sox Negotiating London 2-Game Series
The New York Yankees and the Boston Red Sox  are closing in on an agreement to play a two-game series in London in June 2019, according to Bloomberg's Janet Perkins and Scott Soshnick.
Reportedly the games will be held at London Stadium, which played host to several events at the 2012 Summer Olympics, if a deal is made official.
The stadium can hold up to 65,000 fans for sporting events and if a deal is made official it will continue MLB's trend of playing regular season games in other countries such as Japan, Mexico, Australia and Puerto Rico over the years.
The Yankees and Red Sox are easily among the top MLB franchises in terms of global recognition and their storied rivalry and rosters of elite players will be an easy draw for the series as MLB looks to penetrate the European market.
It could also present quite the online betting opportunity for both US and European betting sites, especially as the series kicks off. When it does, this LVbet bonus code could come in handy, especially if it will be the first time you try your hand at something like this.
"We would love to participate in a series in London against the Yankees but this is a decision that MLB and the MLBPA will make," Red Sox CEO Sam Kennedy said.
Bloomberg reported the games would be played at London Stadium, which was the main facility for the 2012 summer Olympics. MLB has not played any games in Europe before, however, the Red Sox have played overseas in the past, including to Japan before the 2008 season.
"It's a shorter trip than to California, right?" Yankees Manager Aaron Boone, who has never been to London, commented. "Let's get the royal family out there. Maybe the queen can make an appearance."
"It's following the leader — the N.F.L.," said Allen Adamson, a branding expert and an adjunct professor at N.Y.U. "It's good for the Yankees, it's good for Boston, and an attempt to inject some topspin into the sport, but I don't think it mitigates the need to revitalize baseball in the United States."
Adamson added: "It would be more interesting to play in Havana."
The Yankees are in a business partnership with Manchester City F.C, so they are very familiar with the European sports landscape and the audience, and fans, that attend events across the pond.
MLB is trying to follow in the NFL's footsteps, as both are chasing the NBA who have spearheaded the efforts to globalize their game.
Alex Rodriguez Joins ESPN Sunday Night Baseball
Alex Rodriguez is bringing his talents to ESPN.
Rodriguez will join ESPN to work on Sunday Night Baseball telecasts joining the broadcast team of Jessica Mendoza, Buster Olney and newly added play-by-play man Matt Vasgersian.
Rodriguez joined Fox Sports a full-time MLB analyst in March 2017 and will continue to work for FOX during the postseason
Disney, ESPN's parent company, has agreed to acquire part of 21st Century Fox which includes regional sports networks.
"I'm looking forward to this new chapter in my broadcasting career," Rodriguez said in an official statement. "It's an exciting time in baseball and now I get that front row seat to tell that story every Sunday night on ESPN as well as calling my fourth post season on Fox where I started this journey."
Rodriguez will also appear in, as well as serve as executive producer of several ESPN specials.
"I am incredibly excited to work with both Alex and Matt," Mendoza said in the statement. "Matt has been a friend for a long time and someone whose work I've long admired. Alex's achievements as a player speak for themselves, and I've been greatly impressed by the passion and dedication he has put into his broadcasting career. We're going to have a lot of fun."
Vasgersian is only the third voice of Sunday Night Baseball, which is entering it's 29th season, and will succeed Jon Miller.
"Jon and Dan [Shulman] set the bar super high for Sunday Night Baseball play-by-play, so it's a real thrill for someone who still remembers his first minor league bus trip in 1991 to have a chair like this one," Vasgersian said in the statement. "I know firsthand how passionate both Alex and Jessica are about baseball, and I can't wait to get started with them."
It's Time For Major League Baseball To Extend Protective Netting In All Stadiums
It was a scary scene this past Wednesday afternoon in the Bronx, as a young girl was struck in the face by a 105-mph foul ball off the bat of Yankees third baseman Todd Frazier.
Frazier's reaction said it all: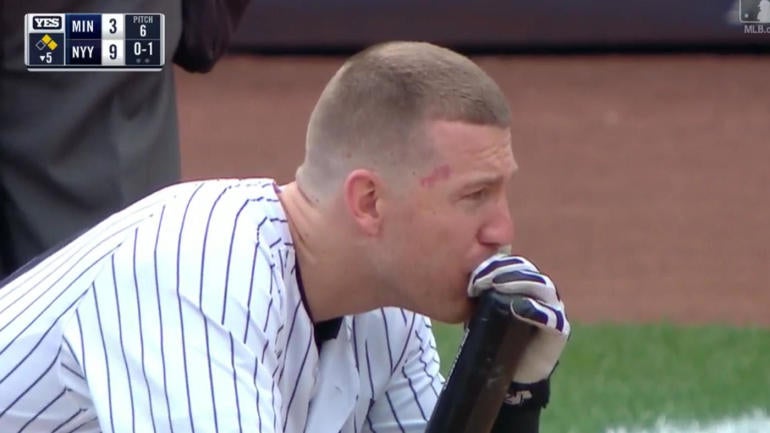 Teammate Matt Holliday—who was on base—was brought to tears:
Medical personnel attended to the child moments after she was struck, causing a four-minute delay in the game. She was then escorted to New York-Presbyterian Morgan Stanley Children's Hospital.
Just a frightening and unfortunate situation. The fact that it happened to someone this young makes it even worse. Truly horrifying.
The Yankees won the game 11-3 to the Minnesota Twins, but everyone's main concern following the game was the well-being of the girl.
This tweet by Yankees shortstop Didi Gregorius spoke for everyone involved:
Hope everything is alright with the little girl that got hit with the foul ball … her thoughts are with us for a speedy recovery

— Sir Didi Gregorius (@DidiG18) September 20, 2017
Twins second baseman Brian Dozier didn't hold back with his opinion on how similar events can be avoided in the future:
Brian Dozier calls for mandatory protective netting after Yankee Stadium foul ball hits young fan. https://t.co/Ggyk1zVixe

— Mike Berardino (@MikeBerardino) September 20, 2017
"Either one, you don't bring kids down there, or number two, every stadium needs to have nets. That's it. I don't care about the damn view of a fan or what. It's all about safety."
Thankfully, Yankees manager Joe Girardi said the girl was doing "OK" following the game, after hearing from security personnel.
On Thursday, Frazier spoke to the girl's father on the phone. Following an early batting practice session Friday afternoon at Rogers Centre, Frazier filled in reporters on the call:
"I talked to the dad and she is doing good. He is a very nice guy and we had a five-minute conversation. I told him I was going to call every day and he said that would be good.''
This isn't the first time this year a fan has been injured at Yankee Stadium. In May, a piece of Chris Carter's broken bat struck a young boy in the head, and in July, a man's head was wrapped in bandages after being struck by a 105-mph drive off the bat of Aaron Judge. Luckily, those two fans ended up okay.
Not once, not twice, but THREE times someone has been struck this year at Yankee Stadium—and the Yankees still haven't addressed what they plan to do regarding protective netting inside their ballpark. Are we going to have to wait for someone to die until something's done about this in the Bronx? (UPDATE: the Yankees announced their plans to extend their protective netting for 2018 on October 1, per CBS News and other sources.)
One day after the latest near-tragedy, four teams—the Reds, Padres, Mariners, and Rockies—announced they will extend their protective netting for the start of the 2018 season.
Back in 2015, two instances at Fenway Park forced the Boston Red Sox to extend their netting dugout-to-dugout for the 2016 season. In June, a 44-year-old woman named Tonya Carpenter was struck in the face with a piece of Brett Lawrie's broken bat. Her injuries were initially life threatening, but she survived the freak accident. Check out how bad it looked:
A little more than a month later, Stephanie Wapenski required more than 30 stitches after getting hit in the forehead with a foul ball off the bat of Didi Gregorius: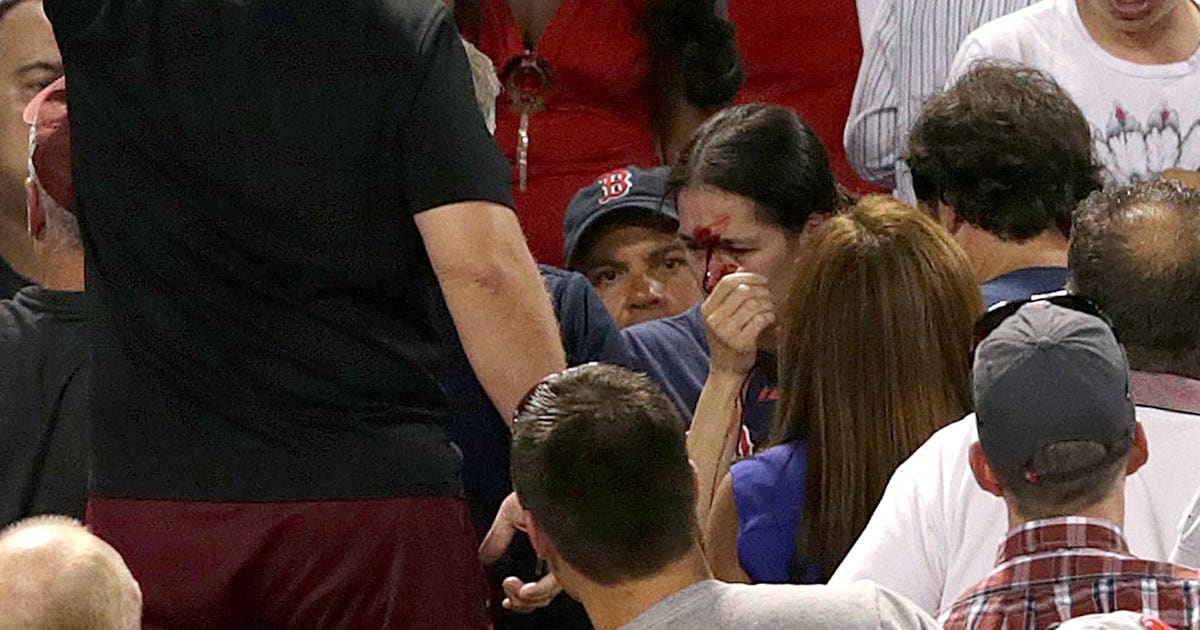 The Red Sox made sure their problem was fixed after two accidents too many in a five-week stretch made it pretty clear they had to do something. Now it's the Yankees' turn. There's no excuse for them not to get something done in time for 2018.
This goes for every club across the majors as well.
It should go without saying—the latest incident in the Bronx should serve as a wake-up call to all teams that haven't yet extended the protective netting inside their stadiums. This problem needs to end before someone gets killed. Enough is enough already. Extend the netting to at least the end of each dugout. Problem solved. A few teams have already done that. Good on them, now time for everyone else to follow suit.
"But it will obstruct the view!"
"Pay more attention then!"
Of course, these are two basic arguments any given person can make who are opposed to extending the netting. Both are silly. For the first one—if you don't want your view obstructed, don't sit in an area where it would be. Or hell, just watch the game on TV. For the second—100-mph foul balls coming at you, or pieces of a broken bat, can still strike you even if you are in fact "paying attention". Just think of how fast those are coming in hot. Very little reaction time. Think of what's going on in someone's mind too if danger like that is approaching them. Sometimes, things like this just happen.
And that's why Major League Baseball needs to extend its netting in ALL stadiums. Fan safety must be the number one priority.
Miami Marlins relief pitcher Brad Ziegler trolled fans on Twitter who don't believe the extending of protective netting is necessary with these two tweets on Friday:
A note to anyone complaining about teams extending netting and not wanting to "pay for an obstructed view": stay home. pic.twitter.com/CpbXDkjcLp

— Brad Ziegler (@BradZiegler) September 22, 2017
Appreciate the dialogue and response from everyone. A few of my light-hearted observations on a very serious topic… #ExtendTheNets pic.twitter.com/lOyrOj6cb5

— Brad Ziegler (@BradZiegler) September 22, 2017
Where does MLB commissioner Rob Manfred weigh in on all of this?
"The events at yesterday's game involving a young girl were extremely upsetting for everyone in our game. Over the past few seasons MLB has worked with our clubs to expand the amount of netting in our ballparks. In light of yesterday's event, we will redouble our efforts on this important issue," Manfred told Bob Ley of ESPN following Wednesday's incident.
Hopefully in the coming days and weeks, more teams announce plans to extend their protective netting. It's something I expect. Forget pace of play (looking at you Manfred), fan protection is the biggest issue in Major League Baseball right now. It's time for more changes, and less accidents in the stands.