Where Should Odell Beckham Go If Giants Make A Trade?
Giants fans have a lot to worry about. Whether the team will trade star wide receiver Odell Beckham Jr. is a subject of much debate.
Giants fans have a lot to worry about. Whether the team will trade star wide receiver Odell Beckham Jr. is a subject of much debate. So far, we've gotten a few conflicting statements from owner John Mara, who first said on Sunday no one is off the table but Odell isn't being shopped around, then said on Tuesday that Odell wasn't going to be traded but he can't 100 percent guarantee that Odell will be a Giant. Not quite crystal clear.
It doesn't seem like Beckham is going to get traded off, but Mara does appear to be leaving some room open for debate or an enticing enough offer. For now, fans are left to debate where Beckham might end up if the Giants decide to hand off one of their most talented players just hitting his prime, if the trade happens at all.
The Los Angeles Rams
Right now it seems unlikely that Beckham is going anywhere, but it sure seems like if he is going to be traded, it'll be to the Los Angeles Rams. Rumor has it the California team is already inquiring with Mara about the possibility of trading for the wide receiver, and furthermore that Mara isn't speaking with anyone else at all at the moment. That would certainly increase the Rams' chances in a bidding war.
Beckham would be a solid fit for the Rams, which have the number six offense in the league, because he would make them even more formidable against opponents having trained using the best spin bikes. For a team so close to the top in the rankings, such a strategic move would certainly seem worthwhile.
They've also got a massive amount of money to negotiate with, more than $30 million, which means they have more than enough to make an appealing offer to a player so early in his career. All the evidence suggests the Rams have their eyes on the Super Bowl, which means now is the time for them to put together an all-star team. Beckham would fit right in, if they can draw him away from the Giants and move across the country to the opposite coast. He already lives there during his off-season – it may just be a matter of convincing him to stay all year.
The Cleveland Browns
While the Los Angeles Rams can make a tempting offer, no one can top the Cleveland Browns, who have a generous salary cap of more than $70 million, the highest in the league. That means they have the biggest financial pull of any team, and Beckham might get what he thinks he's worth there.
Fans have made their case for why Beckham should join the team, citing everything from old friends to the Browns' goal of winning the Super Bowl to the fact that they can't rely on Josh Gordon to make it through a season without another relapse. And according to Mary Kay Cabot, reporter for Cleveland.com, the Browns owner did meet with Mara for coffee during an Orlando vacation, suggesting that a trade for Beckham may have been a topic of conversation.
The fact that Jarvis Landry is actively trying to recruit Beckham on social media is a plus, but whether it's enough to lure the wide receiver remains to be seen.
Other unlikely contenders
A number of other team names have been bandied about in discussions about Beckham's future, but few of them have any real shot of acquiring the football player. Teams like the Jacksonville Jaguars, who have big ambitions but limited funds and a bad draw for Round 1, or the Tennessee Titans, who have better funds but have more recently put a new wide receiver on the team, don't really have a reason to expect Beckham to join their rosters anytime soon.
Chances are, the Giants aren't about to trade Odell Beckham Jr. away just as he's poised to be his most useful. Mara doesn't sound all that interested in trading him away and it seems like they're going to come to an agreement on his contract rather than let him go. But if he does get traded away, there are some obvious choices on the table.
VIDEO: Giants' CEO Larry Baer Knocks Down Wife During Argument
A video has surfaced showing San Francisco Giants team president and CEO Larry Baer knocking his wife to the ground during a fight over a cellphone, published on TMZ.
You can see the video below.
Baer has acknowledged the incident, saying; "My wife and I had an unfortunate public argument related to a family member and she had an injured foot and she fell off her chair in the course of the argument," Baer said, according to the San Francisco Chronicle.
"The matter is resolved. It was a squabble over a cellphone. Obviously it's embarrassing."
Pablo Sandoval Sets Giants Record With 38 Straight Hitless At-Bats
It's been an awfully disappointing season for the San Francisco Giants. Entering play this weekend, the team's a woeful 55-87, which is the second worst record in baseball to the Philadelphia Phillies.
The Giants have pretty much nothing to play for. It's been that way for a while now. They were eliminated from NL West contention on August 20, and currently have a magic number of 1 in the Wild Card standings until their season's officially over—which could be tonight.
So yeah, it's been really bad. None of their five starters who've made at least 20 starts have a winning record or ERA below 4.31. Madison Bumgarner was out for three months. Their offense is ranked last (.380) in MLB in slugging percentage and second-to-last (.309) in on-base percentage.
And now, Pablo Sandoval's making history. Not in a desirable way either.
Let's recap:
When Sandoval was released on July 19 by the Boston Red Sox in the third of a five-year contract worth $95 million for being completely and utterly useless to the organization, the Giants brought him back a few days later on a minor league deal. Not that surprising, since we know how bad the Giants have been all season. Not exactly taking a risk there. Also because the Giants are the team Sandoval began his career with from 2008-2014. Helped them win three World Series titles too. So why not? There's a history there.
On August 5, Sandoval made his official return to the team after Brandon Belt was placed on the DL.
From August 5-17 (11 games), Sandoval hit .200 (8 for 40) without a multi-hit game. He picked it up from August 18-25 (seven games), hitting .423 (11 for 26) with five multi-hit games.
But since August 26, spanning 11 games? 0 for 38. 0. For. 38. But hey at least he's walked four times in that stretch.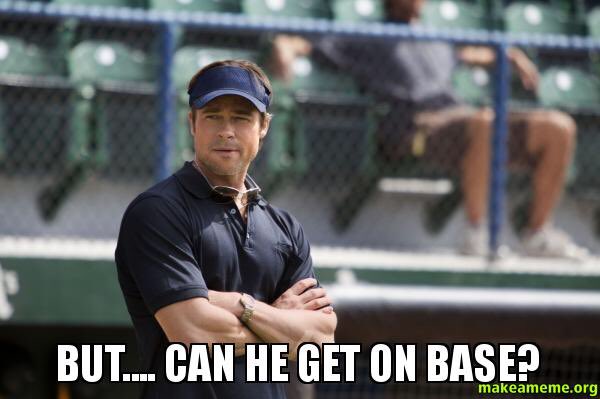 With 38 consecutive hitless at-bats (and counting), Sandoval now owns the Giants record in that category, breaking the previous mark of 37 set by Johnnie LeMaster in 1984.
You could say Sandoval has nothing left in the tank.
Take a look at this hilarious rant (contains profanity) from Red Sox fan/MLB blogger Jared Carrabis courtesy of Barstool Sports:
https://twitter.com/barstoolsports/status/906136311840423937
What a disaster Sandoval has become as a player. Completely anemic for the Red Sox in 2015, missed basically all of 2016 for being in inexcusable shape, lost some weight prior to 2017, but still couldn't produce for Boston. They essentially gave him $50 million to leave. Undoubtedly one of the worst signings in MLB history.
Sandoval's everything that a professional athlete is NOT supposed to represent. Did absolutely nothing for Boston, blamed it on "being complacent", got released for being totally useless, wrote a vomit inducing article on how he's SO thrilled to be back with the Giants, and promptly became even worse than he was with the Red Sox.
Gotta love it.
What a joke. It's really hard to go as low as Sandoval has in such a short amount of time. He used to be a good player too. Now retirement is probably a better option for him. I can't imagine why any team would want him on their roster next year or beyond. He just turned 31, and there's no reason to think his performance will improve as he ages more. Maybe he'll prove me wrong. Doubt it though.
If Sandoval records nine more straight hitless at-bats, he'll set a new Major-League record in that department. Eugenio Velez is the owner of that unfortunate skid, as he went 0 for 46 from 2010 to 2011.
Sandoval's hitting seventh tonight for the Giants as they play on the road against the Chicago White Sox.
(Update: Sandoval's streak ended with a 3-run home run Friday night, snapping an 0 for 39.)
Pablo Sandoval Is Reportedly Reuniting With The San Francisco Giants
It did not take Pablo Sandoval very long to find a new home after his release from the Boston Red Sox on Wednesday. He is reportedly heading back to the Bay Area to reunite with his old team, the San Francisco Giants.
Sandoval, 30, was designated for assignment by the Red Sox on Friday. He was officially released from the team on Wednesday. The Giants were very quick to act, as they reached a minor league deal with Sandoval hours after his release, according to multiple reports. The slugging third baseman will now once again be playing for the organization that he spent his first seven Major League seasons with.
Since signing with the Red Sox, Sandoval has struggled to duplicate the success that he had in San Francisco. Prior to the 2015 season, he agreed to a five-year, $90 million deal with Boston. In his first year with the Red Sox, Sandoval batted .245 with 10 home runs and 47 RBIs. His 2016 season was cut short when he landed on the disabled list in April due to a shoulder strain. He ended up having shoulder surgery on his left shoulder a few weeks later. Sandoval was sidelined for the rest of the season following the surgery.
Unfortunately, Sandoval was unable to have a successful comeback with the Red Sox this season. Before being released, he was hitting .212 with just four home runs and 12 RBIs in 32 games. The last time Sandoval played in a game for the Red Sox was on June 19. On June 20, he was placed on the 10-day disabled list due to an inner ear infection.
After an unsatisfactory tenure with the Red Sox, it will be interesting to see if reuniting with his old team will help Sandoval get his confidence back. During his time with the Giants, he was a two-time All-Star. Perhaps the best season of his career was in 2011, when he batted .315 with 23 home runs and 70 RBIs. He had a good year again in 2012, and even won the World Series MVP Award as the Giants swept the Detroit Tigers in the 2012 World Series. Sandoval hit .500 and blasted three home runs during that World Series.
During his time in San Francisco, Sandoval was a fan favorite. Giants fans affectionately called him, "Kung Fu Panda". They were obviously very upset when he left.
The last time Sandoval was wearing a Giants uniform, he caught a pop-up in foul ground hit by Kansas City Royals catcher Salvador Perez. This out was the final one of the game, and it clinched the 2014 World Series championship for the Giants. Ever since then, Sandoval has not been the same player. The Giants have not been the same team either, as they have yet to win a playoff series since his departure. Even though the Giants will almost certainly not make the playoffs this season, this reunion could be exactly what the team and Sandoval both need right now.