This year's offseason gave us no shortage of hot takes and entertainment. It showed us that the NBA is now, more than ever, a year round affair. While the offseason is still technically going on, the NBA draft is over and all the major pieces in free agency have signed their contracts. And so we're now 90-95% sure of how the opening day roster of most NBA teams will look.
I decided to take it upon myself to assign each franchise a letter grade based on their offseason performance. This grades takes into consideration their respective draft picks, their free agency round up, whether or not they made the right moves, replacing departing players, personnel changes, and whatever else I think of as I go along. Most importantly, though, I answer the pivotal question: Are they better?
I know, divisions don't totally matter in the NBA. But instead of releasing two 10,000-word articles based on each conference, I decided to take it easy on the readers and break it down by divisions.
 Key: 
(R): Rookie
(DnS): Draft-n-Stash – players drafted, but playing overseas next year.
Bolded Names: Particularly notable players
We start this 6-part series with the Atlantic Division, which boasted 3 playoff teams last year. And so we begin with the two-time reigning Atlantic Division winners:
Toronto Raptors: C
Re-signed: N/A
Lost: Landry Fields, Tyler Hansbrough, Chuck Hayes, Amir Johnson, Greg Stiemsma, Greivis Vasquez, and Lou Williams
Acquired:  Bismack Biyombo, DeMarre Carroll, Cory Joseph, Norman Powell (R), and Luis Scola
Drafted: Delon Wright
Other notable moves: N/A
The Raptors have had such a strange downfall after being in first place in the East as late as January, and in second place at the trade deadline. Raptors' GM Massai Ujiri was confident with his roster moving forward, which is why they were quiet at the trade deadline. He believed this was the team that got them in this position, and he looked forward to watching them grow. But Toronto began to slump, as they went .500 in their final 22 games. Getting swept by the Wizards in the 4/5 match-up suggests that this Toronto team may have peaked already. Needless to say, I was looking for big moves from the North this offseason if they had any hopes of regaining that 2014 form.
DeMarre Carroll is exactly what we needed, but let's be real: we totally overpaid. #Raptors

— Bobby Del Rio (@Bobman) July 2, 2015
The Raptors were not able to lure LaMarcus Aldridge to Toronto; but they were able to overpay DeMarre Carroll to join their squad! I like DeMarre Carroll, but he's played for 5 teams in the first 8 years of his career, and really only began to come into his own in his second year with Atlanta. I fear he might be more of a product of the system than an actual star player. Carroll's defense should travel with him to Toronto, but $15 million per year seems like a lot. But I guess that's just the beast that free agency is. Most teams have to overpay to get the players they want.
The losses of the versatile Amir Johnson, reigning 6th Man of the Year Lou Williams, and back-up guard Greivis Vasquez will hurt as they try to replace the combined 34.3 points per game that they brought to the table. I hate to beat the dead horse, but don't expect DeMarre Carroll to take up a huge chunk of that output.
The additions of Bismack Biyombo and Luis Scola will help an already quality defense, and combined with Carroll and Kyle Lowry, the Raptors could be one of the best defensive teams in the East next season.
I like Delon Wright as a prospect, and it appears he'll have ample time to grow being behind Lowry and Cory Joseph. But I would've rather seen them go with a perimeter defender (like Rondae Hollis-Jefferson) and then go after a point guard in free agency. Especially considering RHJ would be able to start day one, or at least play big minutes while defending the perimeter; while Delon Wright will likely be stiffed out of minutes as back-up or third string point guard. Not the best use of your draft pick, in my opinion.
Can this team compete in the East? Sure. But I just don't expect them to replicate what they did in the first half of last season. Especially with the emergence of other teams in the East.
Are they better?: No.
Boston Celtics: C+
Re-signed: Jae Crowder, Jonas Jerebko
Lost: Brandon Bass, Luigi Datome, Phil Pressey, Marcus Thornton, Gerald Wallace
Acquired: Amir Johnson, Perry Jones, David Lee
Drafted: Terry Rozier, RJ Hunter, Jordan Mickey, Marcus Thornton (different Marcus Thornton)
Other notable moves: N/A
All I kept hearing was how the Boston Celtics had trade assets and 2 million draft picks in the next 3-4 drafts. I, like many, were expecting fireworks from Boston this offseason, a la the 2007 Celtics. Well this was a tease.
Celtics' Danny Ainge was desperately trying to make moves prior to draft night. Philadelphia had no interest in giving up the number 3 pick and Nerlens Noel for Marcus Smart and two first rounders. And when Charlotte refused Danny Ainge's godfather offer for the 9th pick in the draft (Ainge really wanted some Justise Winslow in his life), they settled for Terry Rozier (reach) and RJ Hunter in the first round, and picked yet another guard and small forward in the second round.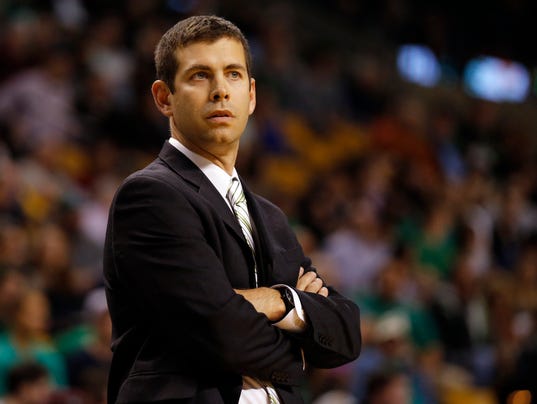 Free agency was more or less a bust for Boston, as well. They couldn't make a trade for DeMarcus Cousins, nor land a top-flight free agent. Instead they took part in two salary dumps (David Lee and Perry Jones) and signed hustle player Amir Johnson to a pretty friendly 2-year deal.
Re-signing Jae Crowder is a plus, but bringing back Jonas Jerebko further adds to their log-jam of average bigs.
Grading the Celtics is difficult this year. The Celtics were coming off a 40-42 record and a playoff appearance this past year, and were looking to add major pieces to expedite the rebuild. Ainge was desperate to make a big splash draft night and free agency, but didn't appear to have a contingency plan if those notions fell through. Their biggest loss is Brandon Bass, but David Lee should provide needed offense down low. The Celtics definitely missed on their offseason goals, but at the same time they didn't exactly get worse. They added more young pieces to develop and they did not overpay or over-commit to a free agent. But the East got slightly deeper this offseason, which means more teams will be going after that 7-seed. Not getting better could cost them next April.
Are they better?: No.
Brookyln Nets: B+
Re-signed: Brook Lopez, Thaddeus Young
Lost: Alan Anderson, Jerome Jordan, Andrei Kirilenko, Mason Plumlee, Mirza Teletovic, and Deron Williams
Acquired: Andrea Bargnani, Wayne Ellington, Rondae Hollis-Jefferson (R), Shane Larkin, Quincy Miller, Willie Reed (R), Thomas Robinson, and  Juan Pablo Vaulet (R)
Drafted: Chris McCullough
Other notable moves: N/A
This is the dark ages for the Brooklyn Nets and their fanbase. The Nets are paying for years of bad trades, bad contracts, and just bad all-around decisions. They won't have their own first round pick until 2019. Which means there is literally zero incentive for Brooklyn to be bad until 2019. They have no choice but to try to be good now to keep fans in those new arena seats.
The Nets absolutely needed to bring Brook Lopez back. He's their best player, their franchise center, and (when healthy) he's arguably one of the 3 best offensive centers in the league. Like I said, if he stays healthy that $20 million/year price tag is a bargain.
And any team that buys out Deron Williams has to give themselves a pat on the back. The $25 million buy-out will not only allow them to avoid the luxury tax, but they're getting so much more in just good will. D-Will's numbers have regressed since 2012, and his attitude undoubtedly caused problems for the Nets' lockerroom. When reports loomed that D-Will tried to fight Head Coach Lionel Hollins this offseason, the marriage was officially over.
https://twitter.com/its21blackjack/status/620412211945676800
I was a fan of the draft night deal for Rondae Hollis-Jefferson. The Nets had been adamant as late as last December that they would not trade Mason Plumlee. That narrative clearly changed when Billy King looked in the mirror and realized where the franchise was headed if they stayed the course. Lopez's indication that he would stick around likely made that decision easier, as well. RHJ is a project as a shooter, but he's strong enough to attack the rim and can contribute right away as a defender.
Letting Teletovic walk hurts the bench, but the Nets added Andrea Bargnani, Wayne Ellington, and Thomas Robinson for very good prices considering their skill set. Neither of these signings move the needle by any stretch of the imagination; but each player can play in their own right and at least improves their bench.
Please don't interpret this section as me toting the Nets' prospects for next year. I'm merely pointing out that this was their best offseason in the last four years, which isn't saying much at all. They still have a long way to go, but they should still compete for a playoff spot next year.
Are they better?: Yes.
New York Knicks: A-
Re-signed: Lou Amundson and Lance Thomas.
Lost: Quincy Acy, Cole Aldrich, Andrea Bargnani, Shane Larkin, Alexey Shved, Jason Smith, and Travis Wear.
Acquired: Arron Afflalo, Jerian Grant (R), Willie Hernangomez (R, DnS), Robin Lopez, Kyle O'Quinn, and Derrick Williams.
Drafted: Kristaps Porzingis
Other notable moves: N/A
Back in April the New York Dailey News' Frank Isola reported there was a mutual interest between the Knicks and Pistons pending free agent PF/C Greg Monroe. "About as close to done deal as you can get," said Isola. More on this later.
On draft night the New York Knicks picked 7'2 Latvian Kristaps Porzingis with the number 4 overall pick. Zinger took the stage to a chorus of boos from the Knicks fans in attendance. I imagine it was the combination of  years of crappy draft picks, the 17-win season, winning 2 of their final 3 games, the Draft Lottery face palm, and the fact that the T-Wolves, Lakers, and 76ers took the three best domestic prospects off the board before the Knicks even had the chance to pick that led to those boos. Or maybe it's xenophobia, the spotty history of international players in the NBA, of the mere fact that Knicks drafted a white dude; I don't know, I can't speak for everyone.
But if there's one area Knicks fans have the right to be angry about it's the franchise's recent lack of player development. For years development of young talent took a back seat to clearing cap space and going all-in on high-priced free agents. The revolving door of head coaches stopping the establishing of a stable culture, the lack of quality player role models in the locker room, and giving up on young talent and just trading them away (an underlying story line of the Tim Hardway, Jr.-Jerian Grant swap) are all reasons why youngins like Landry Fields, Iman Shumpert, and THJ regressed after positive rookie campaigns. So excuse me if I cringe a little bit when I hear the words "project" and "Kristaps Porzingis" in the same sentence.
But there's a new chief in town, and while I haven't agreed with all of the decisions Phil Jackson has made, he did make it clear on draft night that Zinger will be a project, but he has the potential to be the best player in his draft class in a few years. So let's see if Phil puts his money where his mouth is, shall we?
The Knicks did end up doling out a max contract offer to Greg Monroe, who said "no thanks" and took his talents to Milwaukee. After drafting Porzingis, I did not think bringing in Monroe was the best decision moving forward. Monroe is not a trustworthy rim protector, Porzingis is not strong enough to defend 4's and 5's, and Melo just doesn't care about defense. If Derek Fisher is playing those 3 together for huge stretches then opposing teams would be running lay-up drills on the Knicks' defense. And going back to the earlier paragraph, signing Monroe would just be another instance of the Knicks sacrificing player development in favor of the big free agent signing. Monroe would have terrible for Zinger's development.
The Knicks tried to woo DeAndre Jordan to New York (a much better fit with Porzingis, but not even close to a triangle center), to which he also said "no thanks." But what really struck me was how the Knicks were going to try to sell LaMarcus Aldridge. The Knicks told him they planned on using him at center, and LMA went on to cancel his meeting with New York. Wow. So instead of throwing the farm at the biggest free agent on the market, they basically told him they already have a power forward they're looking to develop, and asked him to play out of position. That's the least Knicks-iest move I've heard in years, and it's a credit to Phil's commitment to Zinger.
This is usually the point of free agency when the Knicks give Amar'e Stoudemire a 5-year $100 million deal…

— Robert Wytrwal (@Rob_Talks_Ball) July 2, 2015
The Knicks ended up going with Plan-B in free agency. While Arron Afflalo is past his prime, he's still a competent two-way player and the Knicks got him on a fairly friendly contract. Robin Lopez, a poor man's DeAndre Jordan, is a very good defender who can also put up 8 to 10 points per night; a nice compliment to Zinger. I like Kyle O'Quinn to come into the game and make hustle plays; but the Derrick Williams 2-year/$10 million deal has left me scratching my head. I guess no one's perfect, Phil.
But the Knicks are undoubtedly better going in to next season; which is good considering they don't have a first round pick next summer. If everything goes right, I wouldn't surprised to see the Knicks contend for the 8-seed.
Are they better?: Yes.
Philadelphia 76ers: C
Re-signed: Pierre Jackson
Lost: Luc Mbah A Moute, Jason Richardson, Glenn Robinson, Thomas Robinson, Henry Sims, and Ish Smith
Acquired: Carl Landry, Nik Stauskas, Jason Thompson, and Scottie Wilbiken
Drafted: Jahlil Okafor, Richaun Holmes, and J.P. Tokoto
Other notable moves: Still appear to be in 'tank mode.'
The 76ers made some…interesting…moves this offseason. This team has tons of cap space and more lottery picks in the next 3 years than they have legitimate rotation players. And yet, the "trust the process" ponzi scheme took on more steam when they used their cap space to take on the Carl Landry-Jason Thompson salary dump, and in the process netted themselves a possible 3-point marksman in Nik Stauskas, a future first round pick, and the right to swap first round picks in two future drafts. I'm not a fan of the 76ers' "process" at all, but this move was a steal and GM Sam Hinkie should be reprimanded for taking advantage of the dysfunctional Sacramento Kings.
The argument about whether or not the 76ers should have taken their third center in as many drafts seems pointless to me. I've said it many times, if you have a top 3 to 5 pick then you take the best player on the board. If you're basing your pick on team needs, then you lost already; because if you're picking that high, you already have a lot of needs. Jahlil Okafor was the best player on the board. And with Joel Embiid's questionable future, the Okafor pick was even more justified. Once again good job, Hinkie.
That's about as far as the compliments go for Philly because that's as far as their offseason moves have gone. Have they gotten better? Slightly. The presence of Okafor down low should add at least a few more wins to their regular season total; but they still have the semblance a of glorified summer league team. Which means more losing for the 76ers in 2015-16. And the lack of veteran leadership on the roster means the youngins will learn more bad habits; thus, curtailing their development. But that's ok, because it's all part of the master plan!
*scene of a 76ers fan currently*
Fetile position in the corner repeating to themselves "Trust the process, trust the process"

— Matthew Pyne (@mattyp_63) June 26, 2015
Give me a break.
Are they better?: Yes.
---
That does it for the Atlantic Division. Stayed tuned later this week when I break down the Southeast Division.
As always, thank you to www.basketball-reference.com and espn.go.com/nba for the stats and information used in this article.