Welcome to part 5 of my 6 part series of NBA Offseason Grades! Let me break down a few things in case you're new to this series:
I've taken it upon myself to evaluate each team's offseason transactions. I've given each team a letter grade based on whether or not I thought they made good moves considering their respective situations. This includes the draft, resigning period, free agency, trades, firings/hirings, and anything else I deem important. Most importantly, I answer the one pivotal question: Are they better?
Today we discuss the super-loaded Southwest Division.
If you missed it:
Key: 
(R): Rookie
(DnS): Draft-n-Stash – players drafted, but playing overseas next year
(D): Draft-n-Stash player joining the team
Bolded Names: Particularly notable players
And we start with our reigning Southwest Division Champions:
Houston Rockets: A
Re-signed: Patrick Beverly, Corey Brewer, KJ McDaniels, Jason Terry
Lost: Joey Dorsey, Nick Johnson, Kostas Papanikolaou, Pablo Prigioni, Josh Smith
Acquired: Chuck Hayes, Ty Lawson, Marcus Thornton
Drafted: Sam Dekker, Montrezl Harrell
Other notable moves: N/A
The Houston Rockets acquired Ty Lawson from the Denver Nuggets for a package of spare parts and a lottery-protected first round pick. They were able to nab Lawson on the cheap due to a DUI in July, which was his second DUI in one calendar year. Denver had drafted Emmanuel Mudiay already and they just wanted to move on.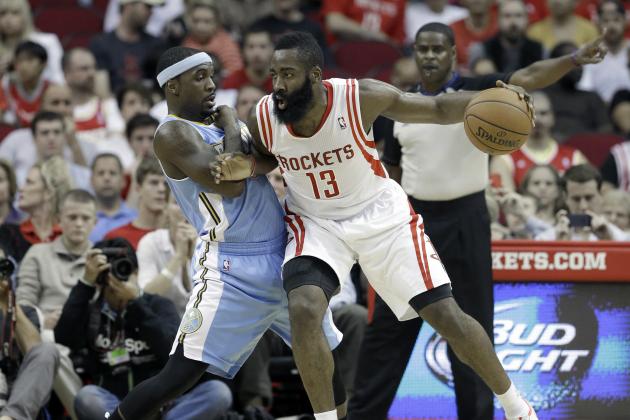 Even if Lawson continues to spiral down the wrong path, they can at least take solace in knowing they didn't give up a whole lot to acquire him in the first place. Add in the fact he's decided to allow the final year of his contract (2016-17) – worth $13,2 million – to be non-guaranteed; Houston made out like bandits. Low-risk, high-reward.
Lawson is an upgrade at point guard for a team that was already in  pretty good standing as far as the back court goes. Patrick Beverly was a nice compliment to James Harden, and Jason Terry and Pablo Prigioni served as quality veteran back-ups. But Beverly's season-ending wrist injury before the playoffs shook up the back court rotation and put the Rockets at a severe disadvantage to the Splash Brothers and company in the WCF.
Lawson isn't a perfect fit with James Harden since both thrive as primary ball-handlers, and neither one is a particularly good defender. But he should fit well into GM Darryl Morey and Head Coach Kevin McHale's 3's and layups offensive scheme. By the way, having multiple players that can create for others is a nice problem to have, so look for Lawson to take some of the offensive load off of Harden's shoulders.
The Rockets brought back Beverly and Terry to deepen their back court. It was a no-brainer, really. Beverly's on-ball defense was greatly missed in the playoffs, and the Jet's championship experience has served the Rockets well. And bringing back Corey Brewer and KJ McDaniels will keep their bench deep.
Josh Smith came up big in the playoffs, and his departure will hurt until Rockets fans remember that Donatas Motiejunas is coming back healthy.
The Rockets picked Sam Dekker and Montrezl Harrell on draft night. I don't expect a whole lot of playing time for these two this season; but both have potential to be solid rotation guys in 2 to 3 years time.
Are they better?: Yes.
Memphis Grizzlies: C
Re-signed: Marc Gasol
Lost: Nick Calathes, Kosta Koufos, Jon Leuer
Acquired: Matt Barnes, Andrew Harrison (R), Brandan Wright 
Drafted: Jarell Martin
Other notable moves: N/A
The Memphis Grizzlies brought back Marc Gasol for 5-years/$110 million. A very appropriate contract for their best player and arguably one of the best centers in the NBA. Gasol never expressed interest in leaving Memphis, and his long-term commitment will ensure that the Grizz will remain a perennial playoff team.
The Grizzlies managed to sign Brandan Wright on a super-cheap 3-year/$18 million deal. Wright is an immediate upgrade over the departing back-up big man Kosta Koufos (and for $1.25 million less per year). He's a change-of-pace center who can run the pick-and-roll and has a solid game around the basket. He's also a very good shot blocker. Wright's presence will allow Head Coach Dave Joerger to experiment with different line-ups in the front court.
The Grizzlies also managed to trade for veteran swingman Matt Barnes in a salary dump with the Charlotte Hornets. Barnes' abrasive attitude (against opposing teams) and ability to defend multiple positions will allow for an easy transition into Joerger's system.
The Grizz drafted power forward Jarell Martin out of LSU with the number 25 pick on draft night. I just don't see Martin getting a lot of run with this team given their depth in the front court. I would've rather seen them snag a sharpshooter like RJ Hunter, who went 3 picks later, due to their perimeter shooting deficiencies. Though, it's unlikely the Grizzlies would've found instant production at the number 25 spot anyway. Still, they needed shooters.
While the Grizz did make some nice moves adding talent to their roster, they neglected to address their biggest issue – perimeter shooting.
Last year the Grizzlies ranked 29th in the league in 3-point field goals attempted (15.2/game) and finished in the bottom third in 3-point field goal percentage (33.9%). Joerger also failed to properly hide Tony Allen's horrible shooting in the playoffs, which was a big reason why they lost to the Golden State Warriors after taking a 2-1 series lead in round two.
Needless to say, the Grizz needed help on the perimeter. Matt Barnes was a step in the right direction, as he shot 35% from behind the arc over the last 3 seasons; but at 35 years old his best years are behind him.
The Grizzlies are still a top 6 team in the Western Conference, which is really saying something considering how deep the conference is; but in a year where everyone else in the West got better, I have to come down on the Grizz for turning a blind eye to their biggest weakness.
This will cost them – again.
Are they better?: No.
San Antonio Spurs: A+
Re-signed: Matt Bonner, Tim Duncan, Manu Ginobili, Danny Green, Kawhi Leonard
Lost: Jeff Ayres, Aron Baynes, Marco Belinelli, Cory Jospeh, Tiago Splitter
Acquired: LaMarcus Aldridge, Jimmer Fredette, Boban Marjanovic, Ray McCallum, Jonathon Simmons, David West
Drafted: Nikola Milutinov (DnS), Cady Lalanne
Other notable moves: N/A
Not only did the San Antonio Spurs earn an A+, they also sit at the top of the class as far as offseason grades go (among other areas).
For a team that never makes big splashes in the offseason, the Spurs sure picked the right summer to do so. And splash they did!
Free agency got off on the right foot when their young star/Finals MVP/Defensive Player of the Year Kawhi Leonard agreed to a 5-year/$90 million contract. Danny Green is also sticking around as he turned down DeMarre Carroll-money in favor of a hometown discount with the Spurs (4-years/$45 million). Not only was this a bargain deal for the Spurs, it also keeps in tact the best perimeter-defending 1-2 punch in the NBA for 4 more years.
"Want a contract?"
"Yeah."#KawhiLeonardContractNegotiations

— Noam Schiller (@noamschiller) July 1, 2015
And after turning free agency into Tinder, LaMarcus Aldridge chose to go home with the Spurs on a 4-year/$80 million deal. Many anticipate LMA will take the torch from Tim Duncan, just as Duncan took the torch from David Robinson. But many will have to wait at least one more season for that narrative to become reality, because The Big Fundamental is coming back for his 19th season after signing a 2-year/$10.4 million contract.
"You. Sign. Now. K?" -Pop's free-agent pitch to LaMarcus Aldridge https://t.co/lApQhrigMz

— Dan Favale (@danfavale) July 10, 2015
And speaking of legacy players returning to the Spurs, Manu Ginobili is coming back after signing on for 2-years/$5.7 million.
And just when you thought the Spurs were finished adding players, David West took an $11 million pay cut to sign with the Spurs on a veterans minimum deal. Yes, the rich got richer.
The Spurs also added Jimmer Fredette, Boban Marjanovic, Ray McCallum, and Jonathon Simmons as spare parts to a roster that's already super-deep.
If you're thinking to yourself, How is any of this possible?, then you're not the only one.
Tiago Splitter and his $8.5 million salary were dumped onto the Atlanta Hawks, and popular players Jeff Ayres, Aron Baynes, Marco Belinelli, and Cory Joseph were necessary casualties in creating cap space for the haul. The Spurs also saved themselves $1.2 million next year by drafting Serbian Nikola Milutinov and stashing him overseas.*
*NOTE: By the way, I'm excited for Nikola Milutinov to come to the Spurs and dominate just so I can start calling him "The Milutinov Cocktail." YOU READ IT HERE FIRST!!!
The Spurs were already title contenders before free agency started, as they spent 2 of the last 3 years playing in the NBA Finals. The Spurs are now 12/5 favorites to come out of the Wild Wild Western Conference, and 19/5 favorites to win the NBA Finals.
But wait, there's more!
Gregg Popovich has allegedly assured LaMarcus Aldridge that he'll be coaching through at very least 2019. On a side note, I'm giving 10-1 odds that Tim Duncan will also be around through the end of LMA's contract.
#Winning.
Are they better?: (Hell) Yes.
Dallas Mavericks:  D    C   F
Re-signed: JJ Barea, Charlie Villanueva
Lost: Al-Farouq Aminu, Tyson Chandler, Monta Ellis, Bernard James, Richard Jefferson, Rajon Rondo, Greg Smith, Amar'e Stoudemire
Acquired: Brandon Ashley (R), Jeremy Evans, Jarrid Famous (R), John Jenkins, Wesley Matthews, JaVale McGee, Salah Mejri (R), Maurice Ndour (R), Zaza Pachulia, Deron Williams, Jamil Wilson (R)
Drafted: Justin Anderson, Satnam Singh Bhamara
Other notable moves: N/A
I wrote about the DeAndre Jordan spurning in length back in July, so I'll just give you the cliff notes of what I thought of that whole ordeal.
The Dallas Mavericks signing DeAndre Jordan for 4-years/$80 million would have earned them in 'D' in my grade book.
DJ is someone who is only good at three things – rebounding, defense, and finishing on the pick-and-roll….oh, and dunking too. He's not someone who can create his own offense, and he's not someone that makes the players around him better. Paying DJ $20 million per year would not only make him the highest paid Maverick, he would also be taking up 20%+ of the team's cap space over the next 4 seasons. That kind of dough implies that DJ is their best player; but don't expect DJ to carry the Mavs to the playoffs anytime soon. And don't even get me started on his free throw shooting…
In my eyes, the Mavericks would be swimming in mediocrity through the duration of that DJ contract had he gone through with it. The spurning at least gives the Mavs an early start on their rebuild. By the way, the Mavs still owe the Boston Celtics a first round pick next year because of the Rondo trade. However, that pick is top 7-protected.
I wasn't a huge fan of the Wesley Matthews contract just because of the cost-benefit analysis. From a business standpoint, it's important that the Mavericks suck next season. If they're one of the 7 worst teams in the league they stand a chance of at very least keeping their first round pick; which will be vital for the rebuild.
Wesley Matthews mucks that up a bit. Best-case scenario he adds 5-7 wins to their 2016 win total, which could be the difference in keeping and losing their pick; worst case scenario he doesn't come back healthy and that $17.5 million per year kills their cap flexibility for the next four seasons. There's really not a whole lot of upside here. Bad business, Cubes.*
*NOTE: I would've been ok with the Matthews signing if the contract was a 1-year deal with a player or team option. Can't blame Matthews for pushing for long-term security, though. 
I upped the Mavs' grade from a 'D' to a 'C' on the assumption that they were going to tank the season. Matthews' presence could hurt the cause, but with the Wild Wild Western Conference being so loaded next season, I figured finishing bottom-7 wouldn't be that daunting of a task. Especially considering who they lost (Tyson Chandler and Monta Ellis), who they got to replace them (*crickets, crickets*), and the fact that Dirk Nowitzki is in his twilight years.
But then, Mavs owner Mark Cuban decided he didn't want to tank. He traded for Zaza Pachulia, and signed Deron Williams and JaVale McGee off of the scrap heap. He proceeded to fill out the roster with spare parts and rookies in hopes that they can at least compete for the 8-seed. *face palm*
Keep in mind I still think the Mavericks will be bad next season, but there's a good chance they won't be bad enough. And if they lose that pick without making the playoffs, this season will have been for nothing.
If your playoff chances decrease when Richard Jefferson leaves your team, were you a playoff team to begin with??? https://t.co/M26clkCD28

— Robert Wytrwal (@Rob_Talks_Ball) July 22, 2015
Yes, we all know why Cuban did this. His relationship with Dirk Nowitzki transcends business, and he wanted to send him out on a team that could be at least competitive on most some nights.
I understand why Cuban would do this. In fact, I admire him for trying to send Dirk out the right way. And if this article was called NBA Offseason Grades Based on How Management Treats Their Star Players, I'd be giving the Mavericks an 'A' (and chocolate milk and cookies!).
BUT…this one is going to hurt the Mavs…for a while.
Hence, the downgrade to an 'F.'
Are they better?: No
New Orleans Pelicans: A
Re-signed: Alexis Ajinca, Omer Asik, Luke Babbitt, Dante Cunningham, Anthony Davis
Lost: Norris Cole, Toney Douglas, Jimmer Fredette, Jeff Withey
Acquired: Alonzo Gee, Bryce Dejean Jones (R), Kendrick Perkins
Drafted: Branden Dawson
Other notable moves: Fired Head Coach Monty Williams; hired Head Coach Alvin Gentry
On July 1st, Anthony Davis signed the richest contract in NBA history. 5-years/$145 million to keep the league's best young player in New Orleans is certainly enough good will to merit the Pelicans at least an 'A' for their offseason. The team can now shift their focus to building around the superstar.
Richest rookie contract extensions ever

Derrick Rose: $94M
Blake Griffin: $94M
Damian Lillard: $120M
ANTHONY DAVIS: $145M

— HoopsHype (@hoopshype) August 27, 2015
The Pellies were also in the news for a hot minute when management decided to relieve Head Coach Monty Williams of his duties despite making the playoffs in a loaded Western Conference. Fortunately for them they hired Alvin Gentry, who just so happened to be on Steve Kerr's championship winning coaching staff this past season, and then everyone forgot/stopped caring about Monty Williams.
I actually liked the decision to switch to Gentry. Williams may turn into a fine head coach someday, but his inexperience crept up at inopportune times last season; especially when there was no clear plan other than giving Anthony Davis the ball and getting out of the way.
Gentry is an offensive guru who's coached a team to the WCF (Suns, 2010), and has spent the last two season coaching under Doc Rivers and Steve Kerr. Look for Gentry to bring the pace-and-space offense to New Orleans. His offensive mind combined with Anthony Davis' versatility should have Pelican fans squawking in the Smoothie King Center next season. Good move.
Wait, it's not all hunky dory.
For some reason the Pellies brought Omer Asik back on a 5-year/$60 million deal. Perhaps it's because they saw Houston use the first round pick they got from the Pellies in the Asik trade to snag Sam Dekker at number 18, and New Orleans felt compelled to bring him back instead of admitting defeat on the trade. I know this makes GM Dell Demps seem petty, but how else do you explain overpaying a center that literally doesn't fit in Alvin Gentry's system?
Outside of bringing in Kendrick Perkins to teach Anthony Davis how to scowl correctly, the Pellies didn't do much else this offseason. I understand not wanting to tinker too much with the team before the new coach has a chance to work with his players; but I really would've liked to see them bring in another point guard or forward considering Jrue Holiday and Ryan Anderson have struggled to stay healthy.
But like I said, the Davis extension keeps this team in good standing in my grade book. The Gentry hire means their's no rush to overhaul the roster, either.
Good summer.
Are they better?: Yes.
---
And that will do it for part 5 of my NBA Offseason Grades series. Stayed tuned for the ever so entertaining Pacific Division edition coming next week!
Thank you very much to basketball-reference.com, espn.go.com/nba, and hoopshype.com for the stats and information used in this article.