The NHL's Special Announcement at The Motor City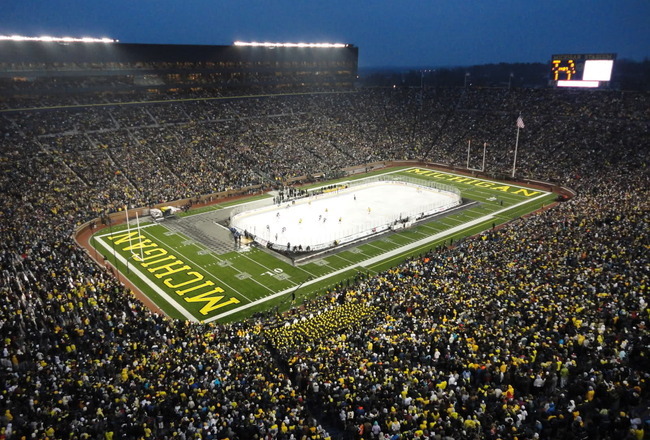 Today at 10:30 a.m. the NHL said there was going to be a special announcement made at Comerica Park in Michigan. A lot of speculation was made that this announcement may have had something to do with the CBA, NHLPA and the NHL; but that wasn't the case at all. Here at SportsRantz, the NHL Department wasn't shocked when we heard the announcement considering we broke the news on this weeks ago on "Slicks and Sticks"  and everyone knows the NHL can not keep a secret at all.
So what was this big announcement pertaining too? The Winter Classic in 2013 is coming to the Motor City. NHL commissioner Gary Bettman made the news official this morning at a press conference from Comerica Park, announcing that the Detroit Red Wings and Toronto Maple Leafs would participate in the sixth-ever Winter Classic.
"Let me now make it official, the National Hockey League is proud to announce the Detroit Red Wings will host the 2013 Winter Classic," Bettman said. "The Red Wings will host the Toronto Maple Leafs on Tuesday, Jan 1, 2013. "It was the vision of Mike and Marian Ilitch that this Winter Classic be the biggest one ever. Since this outdoor matchup is so big, there is only one place where it could be played — The Big House at the University of Michigan."
The 2013 Winter Classic will be played on arguably the grandest stage in league history. Michigan Stadium — aka The Big House — has a football capacity of 109, 901, but set a world hockey record at the 2010 Big Chill at the Big House with an announced attendance of 113,411. (Of note, the Guinness World Record counted tickets scanned rather than sold, putting the Big Chill attendance at 104,173.)
As for Comerica Park, it'll be home to a number of events during the Winter Classic including AHL and OHL games, the alumni game and open skating throughout the weekend. To add to this, Bettman said events at Comerica Park will bring between 150,000-200,000 people to downtown Detroit during Winter Classic weekend.
So this Winter Classic will mark the Leafs as the first Canadian team to be a part of the Winter Classic. So Detroit, Toronto and NHL fans start saving your money now for the weekend trip to Motor City! And as always, look forward to HBO's 24/7 Road to the Winter Classic series featuring these two teams and I'm guessing that Toronto's coach is going to steal the spot light.