Indy At New Hampshire
Now, I don't usually write about the Indy races; but I took special interest in the race that happened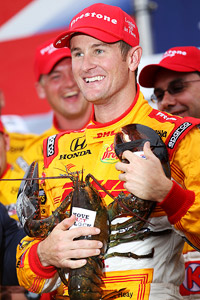 Now, I don't usually write about the Indy races; but I took special interest in the race that happened earlier today. Rain altered the outcome of this race as well; but unlike NASCAR who postponed their race to Monday, the Indy Car Series decided to stop the race briefly and then restart the race…so what happened?
The start of the race was moved up by a half hour in hopes of avoiding rain predicted for late in the afternoon.  The crashes began on the very first lap when Mike Conway spun sideways coming out of Turn 2 and hit Graham Rahal. Both ended up on the grass and were out just seconds into the race. Then, moments after the first restart, Helio Castroneves also spun coming out of Turn 2. He continued after repairs but never was a factor.
A light rain began falling on about the 70th lap and the yellow flag came out six laps later for moisture on the track. After 33 laps under the caution flag, the race restarted with Franchitti in the lead followed by Sato and Servia. Then Franchitti was knocked out "It was my fault," Sato said. "I was too close to Dario and had debris in my eye. … I'm sorry about that."
Soon after, another crash ended the day for Tony Kanaan and Tomas Scheckter.
The last caution flag came out on the 206th lap because of more moisture on the track. At that point, the top three cars were driven by Hunter-Reay, Servia and Dixon. Then came the final, ill-fated restart that left many drivers upset with the decision by Brian Barnhart, IndyCar's vice president of competition, to resume racing.
"It was no condition to race in. Shame on him," Power said. And Barnhart said he made the wrong call. "It was a mistake on race control's position," he said. "We ended up tearing up some race cars that we shouldn't have." He said he hadn't considered the possibility of penalizing Power for his gesture.
Ryan Hunter-Reay raced to his first IndyCar victory of the year on Sunday after a slippery, crash-marred finish that left drivers upset that it was restarted in rain with about 10 laps left. Moments after the race resumed on an overcast afternoon, Danica Patrick's car slid sideways, starting a chain reaction that knocked out the cars of Will Power and Takuma Sato.
Officials reverted to the race order that existed before the final restart, leaving Oriol Servia in second place and Scott Dixon in third in the 225-mile race at New Hampshire Motor Speedway, the first IndyCar competition at the track since 1998.
Power, second in the series point standings, was irate as he left his car and flashed an obscene gesture that was caught on camera. But he cut Dario Franchitti's lead from 63 points to 47 with five races left. Franchitti led for 115 of the 225 laps before being hit from behind by Sato, ending his race on the 119th.
Hunter-Reay then took the lead and held it most of the way for his fifth win in 113 IndyCar races. He came in third in two of his three previous races and now has five consecutive top 10 finishes after managing just one in his other eight.
The driver for Andretti Autosport wished his win "was in a little bit different way, but we'll absolutely take it after the year we've had," he said. "It was a strange day, but sometimes racing is strange."
Now that the race recap is here and you all have followed thus far…why am I writing about IndyCar? Will Power is the answer to your question. I have never witnessed such heart and willingness to let the fans know how angry a driver gets. Power voiced his feelings but also waved the two-finger salute to the officials to let them know that they had messed up big time. The race shouldn't have restarted like it did and I am pretty sure Power was some ill-feelings towards Danica Patrick as well.
If more drivers should that much heart…the Motorsports would thrive a lot more. Fans love to see drivers get angry, voice their displeasure with calls made and personally for me, it shows me that its more than just about the money.