The 51 Million Dollar Question
In the midst of the All-Star break we decided to turn our attention to a goaltender who's being paid
In the midst of the All-Star break we decided to turn our attention to a goaltender who's being paid the big bucks to save goals and help his team win and well it has been quite the opposite for Flyers' $51 million man, Ilya Bryzgalov. Throughout the article there will be opinions from SportsRantz Staff member, Mark Rogers and myself, stats from his roller coaster season, a comparison with another NHL goalie and comments from former teammates on Bryzgalov.
The reason this is prevalent is because the Flyers thought by signing a "dominating" goalie during the regular season on the west coast that their goalie woes would disappear and for a brief time this season every Flyers fan was starting to believe that until the 6-2 leads were blown and eventually turned into losses. The $51 million question is easily asked but extremely difficult to answer: Was signing Bryzgalov a huge mistake?  The answer can not be produced without days of research, looking at game film and getting some perspective from the Flyers team and fans. And during the article I urge you to formulate your own answer and we have ours.
Flyers General Manager, Paul Holmgren, overpaid a goaltender who has failed to get out of the first round of the playoffs for two straight seasons. To pay a goaltender who is a proven regular season performer but a choker in the playoffs is taking a page out of the Joe Thornton and Patrick Marleau book of contracts – overpaying someone who may be good at some parts of the game but can't get the job done when it comes to winning a cup.
Compare Bryzgalov with Tim Thomas of the Boston Bruins. The Bruins were not defensively sound in the playoffs but found ways to win thanks to solid goaltending from Thomas throughout the entire run of the playoffs. Bryzgalov proved in two playoff runs with the Coyotes that he is not mentally sound enough to be the goaltender that can win a Stanley Cup with any team. Now with this insight let's take a look into what some of Bryzgalov's former Coyote teammates had to say about him.
Defenseman Derek Morris, was asked prior to playing against Bryzgalov earlier this season: What is this team's collective mindset as you take on your former goaltender? 
"First of all we have to throw a lot of pucks at Bryz. He's known for letting in bad goals, you know, so I think our mindset is going to be get the puck down behind the net and hopefully he comes out and plays a few because he doesn't like to do that. We have to put some pressure on Bryz. We've gotta make it a tough night, we gotta have guys in front, we've gotta be banging away at rebounds. He gets frustrated that way."
The second question thrown at Morris: There is a mental strength that is missing there, right?
"We're actually glad — first of all, I'm glad he's gone because the guy we brought in has done a great job and fitted in real well, made our team even closer. There was some animosity there with Bryz sometimes. We don't have that with [Mike Smith] so we have a good group and we're winning games because of it."
The final question Morris answered dealt with using that game as motivation.
"It's gonna be great. You know Bryz will be just as prepared. Bryz is one of the best goalies in the game and when he wants to play, one of the best goalies you can have out there. We have a good goalie and a good system and we're going to do what we can to get pucks to the net. I think it's going to be an ugly goal from the side that'll go in on Bryz."
Another Coyotes player, Adrian Aucoin added even more fuel on the Bryzgalov fire. When asked: I actually used a quote of yours you gave to NHL.com about Mr. Bryzgalov — it was more about Mike Smith, though, where you said he's more approachable. He's here everyday and I can get to know him as a teammate. Can you take that a little further? What did you mean specifically?
"We don't always try to win for the right reasons, but anybody who is a professional wants to win no matter what the situation is, who your teammates are, coaches are, how many fans you have there, anything. But it adds to your motivation when you have a good guy back there who you always want to do well for."
Aucion's  second response was in relation to : Derek Morris just described the relationship between the room and
Ilya last year as one with animosity. Is he right?
"Absolutely. I honestly haven't met almost any hockey player that's a bad person. I think he was different as a player — obviously he was a great player — more as a person. Sometimes he just did things that weren't very typical of hockey players or teammates but he's a good goalie."
The final question Aucion faced : Is he misunderstood? Sometimes you look at a guy who's speaking a second language and go wait a minute. 
" No, he's a pretty smart guy. He knew what he was saying."
With such comments coming from former teammates the integrity of this off-season move falters and is starting to become a shaky deal which is much like Bryzgalov's goaltending on some nights. And prior to having this huge bank account, Bryzgalov had an interesting comment to make about where he would go if the Coyotes were the team to become the Jets or he wouldn't get picked up.
 "I better go to somewhere in Russia, KHL, to be honest. Because KHL is Russian people, it's family, friends. Even as a cold place, I can speak to people in Russian language."
But, I guess when you get thrown a $51 million contract over 9 years that would make anyone change their tune about staying in the NHL. Makes you wonder if Bryzgalov's whole heart is here in the NHL or if a big part of his 5-hole wants to return to Russia.  And yes, we saw the "universe" side of Bryzgalov through HBO's 24/7 coverage "The Road To The Winter Classic" and no doubt he was a fan favorite throughout the series for his unique comments while his on-ice performance was starting to leave Flyers fan restless.
Now lets venture in a neck of the woods that Bryzgalov would like to forget; the wonderfully large world of his stats! Within this segment Bryzgalov's stats will be laid out and then compared to Bobrovsky, the Flyers back-up goaltender. Although stats may be misleading this is shedding some light into the darken woods of Bryzgalov's year.
 Bryzgalov                                                                                                Bobrovsky
Games played: 33                                                                                  19
Games started: 32                                                                                 16
Wins:  18                                                                                                      11
Losses: 10                                                                                                   4
OT Losses: 4                                                                                              1
Shots Against: 891                                                                                504
Goals Against: 94                                                                                  41
GAA: 2.99                                                                                                 2.42
Saves: 797                                                                                                463
Save %: .895                                                                                             .919
Shutouts: 1                                                                                                0
The stats can speak volumes on their own; but, why just let the numbers talk when we have NHL analysis at SportsRantz? The conclusion can be very simple when comparing the two goalies as Bobrovsky was played fewer games thus far ,including the Winter Classic game, and Flyers Head Coach has made it clear that Bryzgalov is going to be the Flyers "work horse" in net. Having said that it is clear that Bobrovsky has played better throughout his games this season. And Bryzgalov's shakiness mentally has proven to get the better of him in big games where on some nights he let in roughly 6 goals a night.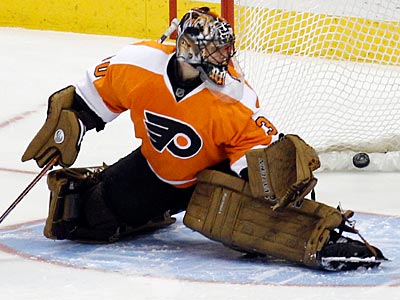 And this leads into Mark Rogers, a SportsRantz NHL insider,  top three points on why Bryzgalov struggles and isn't worth the clear $51 million he's getting from the Flyers:
Coming over from the western conference, Ilya is not used to the Eastern conference style of play where there are big bodies in front of the net, crashing the net, making life miserable on the goalie. Whereas the western conference is up and down, and usually one shot and the puck is going the other way. Eastern conference hockey really is a grinding, cycling hockey game that the west has not seemed to really grab onto.
Bryzgalov is not a technical goalie by any means. For instance Dominick Hasek, another European hybrid goaltender, I believe EC style of play calls more for a technical goalie, cutting down angles, staying square to the shooter, and not allowing rebounds; with all of these skills Ilya seems to have a problem grasping. I've noticed that when he is going good, hes at the top of his crease, challenging shooters, when he isn't doing so well, deep in the net..not where you want to be. A lot of goals Bryzgalov has allowed were not squared up, did not take away the top part of the net, and his glove hand was down around his waist when it should have been a bit higher.
Mentally Bryzgalov has proven that  he loses focus, gets down on himself, and it showed throughout the HBO series: 24/7 The Road to The Winter Classic. This man is getting paid 51 million dollars to stop pucks and be the next great goalie for the Philadelphia Flyers and hes talking about how humangous the universe is! This shows that he has zero confidence, and has lost the mental focus needed to be at the top of his game. Also, he is nowhere close to being consistent; when he is bad, he is just really bad and there is no happy medium for Bryzgalov. He is either very good, or very bad and when bad team is playing catch up he starts to falter and this Flyers team is not built to play catch up hockey.
Aside's from M. Rogers' top points there is some whispering among the locker rooms and at the SportsRantz NHL office that Bryzgalov has become a huge distraction in the Flyers locker room since his fame came to life in the HBO series. The locker room should focus on the entire team in general but in light of his on-screen tales, quotes and his on-ice failures Bryzgalov has become a "me guy" and is focusing more on himself then the guys surrounding him.
Time to switch focus on to the goalie comparison of the year! Now, this may enrage a lot of Flyers fans considering SportsRantz is lumping Bryzgalov and DiPietro together in what may be the worst signings' by NHL General Managers known to mankind! And folks, just a little warning, this is not going to look pretty for Bryzgalov.
For the next decade, a Flyers-Islanders matchup will serve as a constant reminder of why NHL players, especially goaltenders, should not be signed to long-term contracts. Rick DiPietro and Ilya Bryzgalov are "locked in"  for 24 years at $118 million wrapped up in a position that is perhaps one of the most volatile in sports.
So let's outline why these long-term contracts should be outlawed once the NHL and the Players' Association agree on a new CBA:
1.  GUARANTEED MONEY – If Bryzgalov spends the rest of his career with the Philadelphia Flyers he gets… $51 million. If Bryzgalov fantasizes about a career in astronomy… $51 million. The same applies for DiPietro, big money with the Islanders or big money dreaming of actually playing an NHL game this season.  The fact that the money is guaranteed doesn't guarantee anything in return when it comes to the investment. Contracts are insured in the event of injury, but there's no insurance against poor, inconsistent play. The NHL should consult the NFL on this matter.
2.  INJURIES – Take DiPietro, who inked a 15-year, $67.5 million deal in July 2006. In the history of the NHL you can count the number of netminders on one hand who have played at a very-high level over a period of at least ten years. DiPietro will never live up to the hype after being selected No. 1 overall in the draft and this contract was an albatross from the day he agreed to it. Injuries have plagued his career — from a concussion, to a torn labium, to surgery on his left knee, to surgery on his right knee, to most recently a groin injury. These setbacks alone have crippled the Islanders financially and with the salary cap. The Flyers have been lucky thus far with Bryzgalov's minor injury; but as we see with DiPietro the injuries are a domino effect and this is going to haunt the Flyers as it has with the NY Islanders.
3.  COMPLACENCY – This was my fear when Mike Richards and Jeff Carter signed their huge deals. It was like handing them the keys to the kingdom. Young and rich and the world at your fingertips.  Sometimes, its too much, too soon. Long-term contracts can promote complacency. There's no reason to prove yourself for that next contract when this is the only contract you'll ever need. Money will always be the primary motivating factor to perform for just about any athlete. When you take away the potential for a bigger payday, the incentive to excel is minimized.
4.  Framework – By now, you're aware contracts are front-loaded for players to receive more money right away than in the final years of the deal. Teams can tack on a few more years and significantly reduce the annual cap hit that comes with it. In the case of New Jersey's Ilya Kovalchuk, his 15-year contract expires at the age of 42. Seems completely unrealistic, doesn't it? This "salary cap era" has promoted circumvention, creating an economic imbalance.
5. The Downfall of Jim Carey – The Jim Carey I'm referring to is the guy who won the Vezina Trophy for the Washington Capitals back in 1996 with a 35-24-9 record, a 2.26 GAA, and a .906 save percentage at the age of 23. Carey appeared to be
the next great netminder, only to see his career skydive without a parachute. His fall from grace was unreal. Olaf Kolzig never came close to his award-winning 2000 season and Jose Theodore only produced one real quality year after claiming the Vezina in 2002.
Now a lot came be learned from this and let's hope the new CBA can help solve the issues with the long-term contracts that goalies have been receiving. Now what exactly can be grasped from such a long, in-depth comparison? Goalies are quirky, bizarre, odd and once they lose their fundamentals, its gone for good!  And let's add Ryan Lambert's most recent discovery on Bryzgalov:
"Bryzgalov just doesn't get how it works in real hockey markets. He played well in Anaheim and Phoenix, where there is literally no pressure to win or act professionally. But in Philly the pressure is on, which is why some say he's more interested in being an off-ice personality than a Vezina Trophy candidate."
Now, if that quote doesn't help solidify that this $51 million goalie isn't fit for his contract; I am not sure that anything will!
Now to the final act of this tale of the $51 million contract and it involves the defensive woes that the Flyers face. Many media personnel, Flyers spokesmen, and fans have been playing a bit of the blame game in recent weeks. Some are blaming Bryzgalov and some are blaming the defense for their lack of coverage around Bryzgalov.
Yes, the defense has been hurting without Captain Chris Pronger throughout the season and in various games it has shown through; but, ultimately bad bounces and deflections are bound to burn any NHL goalie. The huge 5-hole and sloppy play from your top goaltender is where the real problem surfaces and that can not be blamed on the break down of your defense.
Regardless of whom you believe, Bryzgalov was brought in to sure up the goaltending carousel that the Flyers have been experiencing in the near past. For seasons, the Flyers have not gone into the Stanley Cup Playoffs without at least a question mark in goal. Bryzgalov was given $51 million, over a nine year period to erase the questions. However, halfway through the season it turns out that not only are the question marks still there, but the so-called answer does not come as advertised to the Philadelphia fans.
Has Laviolette lost confidence in his goalie? Has Bryzgalov lost confidence, once again, in himself? Answers that may come in the second half of the season, but unfortunately those answers may come too late, or worse yet, may only cause to raise even more questions about the current situation in goal. Bobrovsky can no longer be dangled as trade bait, why you ask? The answer is simple, Bob has been the most reliable option to date in net, far more consistant, and exponentially more mentally stable.
Bryzgalov, therefore, turns out to be the 51 Million dollar question…Who will be in net, if and when the Philadelphia Flyers enter the postseason? Will it be the cagey veteran or the young goaltender the defense seems to have confidence with, Bobrovsky? If Peter Laviolette ends up playing goalie roulette once again this postseason the Flyers and their fans will be looking into what could become  a very long off-season.  And that $51 million might very well may have been flushed down the toilet and chalked up to be one of the biggest flops of Bryzgalov's career.
So far this season, it looks as if the Flyers just paid their answer in goal with 51 Million pieces of toilet paper, another 51 million unanswered questions, possibly angering the entire Flyers fan-base and a floppy goaltender who is in another universe with his husky.