It's been a long 178 days and 21 hours since the end of Super Bowl LI, not that anyone is counting, but football is back! Well, sorta. It might just be the preseason, but football is football.
This year, the Hall of Fame game in Canton, Ohio was a game between the Dallas Cowboys and the Arizona Cardinals. But, before the game was even played, a more important ceremony took place: 7 players and owners were inducted into the NFL Hall of Fame. Super Bowl-winning quarterback Kurt Warner, record-breaking running back LaDainian Tomlinson, and America's Team owner Jerry Jones were just a few of the legends inducted this year.
The game started with an early score from the Cardinals, who were led by quarterback Blaine Gabbert. Glamorous, I know. Kerwynn Williams scored the first touchdown of the 2017 NFL Preseason off of a 5-yard touchdown run.
On the following drive, out walks the Cowboys 2017 Triplets: Kellen Moore, Darren McFadden, and Brice Butler… The three play just as well as anyone would expect them to, and the Cowboys punt the ball back.
After the Cardinals go up 15-0 in the first quarter, the camera focuses on a familiar face: Tony Romo. Must be nice for Cowboys fans to see him in a football game all in one piece.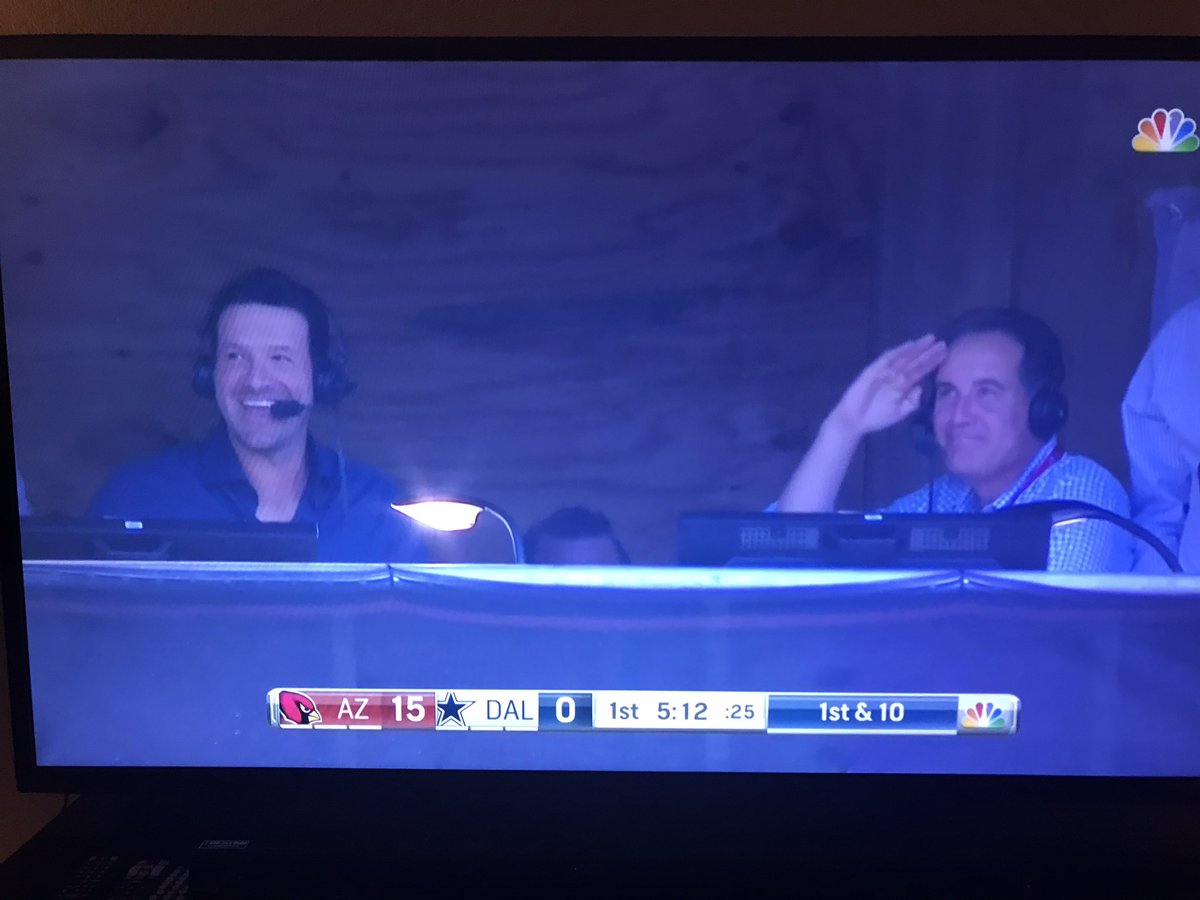 By the end of the first quarter, the Cowboys managed to put together a scoring drive: a 26-yard touchdown pass from Kellen Moore to former Baylor basketball player Rico Gathers. If Gathers can keep up the performance he had tonight, the Cowboys might have just found their Jason Witten replacement in the 7th round of the draft.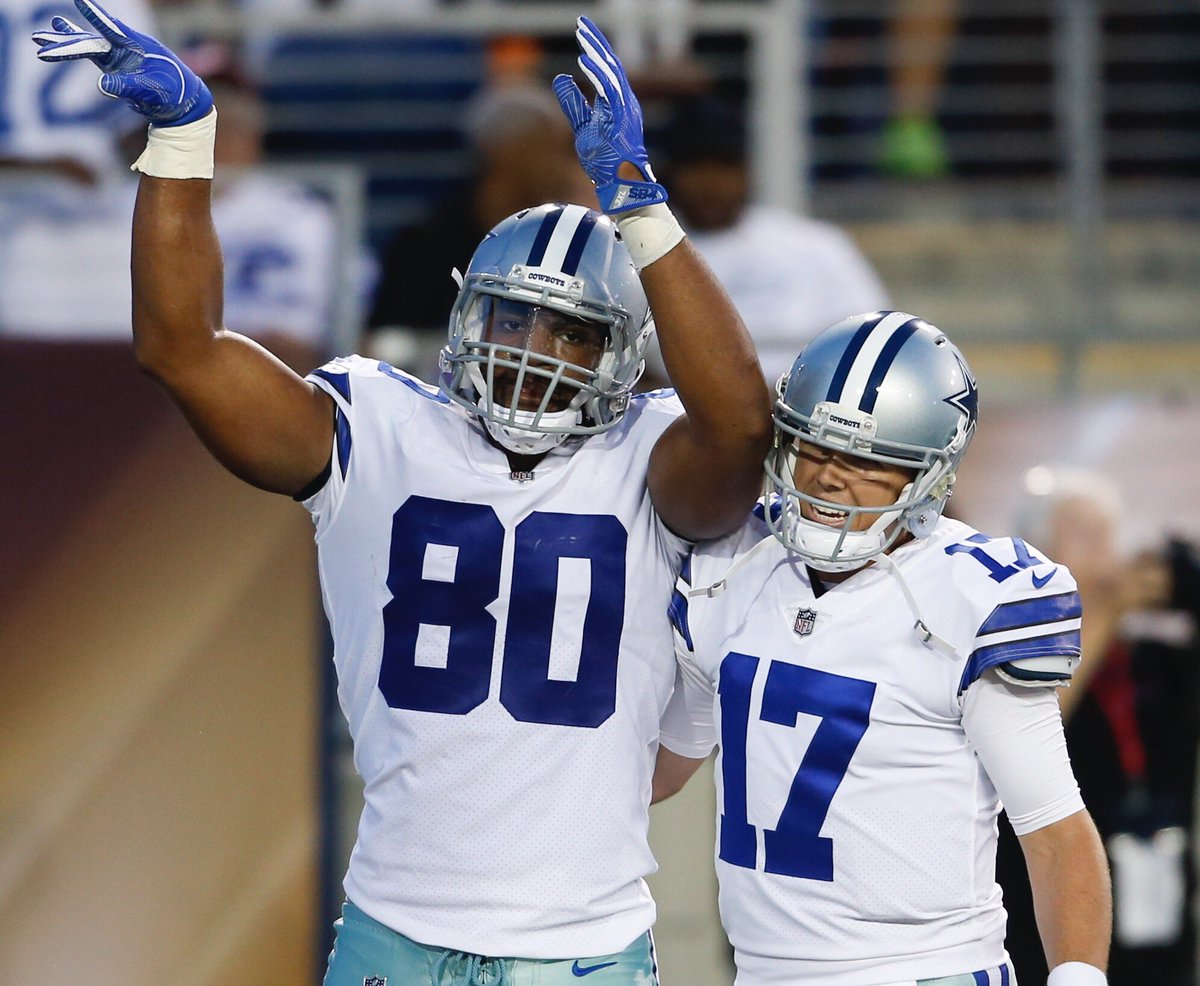 At halftime, the Cowboys cut the Cardinals lead to 5, scoring ten unanswered points.
Everyone's favorite Chippewa Cooper Rush starts the third quarter for Dallas and leads them on a scoring driving, capping off with a 14-yard touchdown to Uzoma Nwachukwu (don't even ask me how to pronounce that).
If you thought seeing Cooper Rush was exciting enough, wait until you hear who the Cardinals rolled out. That's right, dreamboy Aggie Trevor Knight takes the field, even leading them to a field goal and retaking the lead at 18-17 at the end of the third quarter.
The final score of the game was a field goal from the Cowboys, and the game finished 20-18. The Dallas Cowboys get the first win of 2017, and the Cardinals fall to 0-1.
Now I know everyone doesn't love preseason football, but seeing guys out there playing the sport they love is just so good to see again.
Game Stats Leaders:
Passing Yards: Blaine Gabbert (185 yards)
Passing TDs: Kellen Moore (1 TD)
Rushing Yards: Rod Smith (64 yards)
Rushing TDs: Kerwynne Williams (1 TD)
Receiving Yards: Brice Butler (78 yards)
Receiving TDs: Rico Gathers (1 TD)
Cardinals Acquire Kenyan Drake
The Arizona Cardinals have acquired veteran running back Kenyan Drake from the Miami Dolphins for a conditional 2020 draft pick, according to ESPN's Adam Schefter.
Per the report, the Dolphins will receive a 2020 sixth-round pick that can become a fifth-round pick as part of the deal.
The move had been expected since it was announced that Drake was not traveling with the Dolphins for their Monday Night tilt against the Pittsburgh Steelers, and a Drake trade had been rumored since the start of the season.
While Drake e has been historically under-utilized during his tenure with the Dolphins, and seemed to be towards the bottom of the backfield rotation,at times, this season.
Drake has rushed for 174 yards this season.
The Cardinals add a playmaking element to a backfield in desperate need of some help as both David Johnson and Chase Edmonds have been dealing with injuries that are likely to keep them from playing in Thursday night's game against the San Francisco 49ers.
Drake is expected to be available for that game, and could also contribute in special teams as well.
Drake is in a contract year, and could get a chance to get some solid playing time in the Cardinals' backfield.
For the Dolphins, it is another pick added to an impressive stockpile for the 2020 draft. Miami has 13 total picks in 2020 including three first round picks, two second rounders, and two expected compensatory pick, and their own draft pick is expected to be the #1 overall pick.
Cardinals Owner Bill Bidwill Dies at 88
Arizona Cardinals owner Bill Bidwill died on Wednesday at the age of 88 while surrounded by his family and loved ones, according to a team announcement.
Bidwill is survived by his five children, 10 grandchildren and one great-grandchild.
"We are overwhelmed by the support our family has received, not only now but throughout the latest chapter of his life," Bidwill's son, Cardinals president Michael Bidwill, said in a release (h/t ESPN). "We are especially grateful to the nurses, doctors and other caregivers whose endless kindness and compassion in recent years have made our dad's life so meaningful.
"Above all else, we will remember him as a man devoted to the three central pillars of his life — his immense faith, his love for his family and his life-long passion for the Cardinals and the sport of football."
Bill Bidwill's father, Charles, bought the Chicago Cardinals in 1932 and Bill has been associated with the organization for eight decades, starting as a ball boy as a child and went to work for the team full time back in 1960, which was the team's first season i St. Louis.
Bill become owner back in 1972 and moved the team to Arizona in 1988.
"Bill Bidwill was part of the NFL family his entire life, starting from his days as a ball boy through his time as an owner," NFL commissioner Roger Goodell said in a an official statement.
"Although never one to seek the spotlight, Bill had an incredible sense of humor and he made extraordinary contributions to the NFL. Bill's vision brought the Cardinals, the NFL and multiple Super Bowls to Arizona. He was a leader in embracing diversity and employed the first African American female executive, and the first African American general manager and head coach tandem. We extend our condolences to Bill's family and the Cardinals organization, which along with his faith, meant so much to him."
____________________________
When you're in need of a boost, sometimes you need to boot your run-of-the mill Miami SEO company to the firm and go elite with a national, global, and award winning company that has won awards for it's work, such as Plastic Surgery Marketing services, and go to the next level.
Cardinals Sign Michael Crabtree
It took two times, but the Arizona Cardinals were finally able to finalize a deal with veteran wide receiver Michael Crabtree.
According to ESPN's Josh Weinfuss, the Cardinals have added Crabtree on a one-year deal that was inked on Wednesday night, and comes two weeks after the team had Crabtree in for a tryout during training camp.
The addition of Crabtree came on the same day that the Cardinals released wide receiver Kevin White, and on the same week that rookie wide receiver Hakeem Butler suffered a fractured hand.
Crabtree and the Cardinals were unable to workout a deal the first time around as the two sides were not able to agree on the financial aspects of the contract.
The release of White is another disappointing turn in his career. A former highly-touted first round pick of the Chicago Bears back in 2015, White has been unable to stay healthy and was limited to only 14 games during his four years in Chicago, which led to his exit from the Bears.
White had been hoping to turn things around with a fresh start in Arizona, but now he will have to try and find a new team to get on board with.