A Case of the Sundays: October 3rd, 2011
Week 4 is in the books (except for Monday Night Football's game) and this week was a good gauge
Week 4 is in the books (except for Monday Night Football's game) and this week was a good gauge on who the contenders and the pretenders are. After today I will be starting a Power Ranking for the NFL teams. Stay tuned for more information.
So as usual in this edition of "A Case of the Sundays" we will go over all the action on Sunday and highlight the games that I found were interesting in one way shape or form according to my personal little sports world of course.
After Week 4 is pretty much starts getting pretty definitive between the "Elite Teams", the "Middle of the Pack Teams" and the "Bottom of the Barrel Teams". So let's gear up for Week 5 but first let's take a look back at Sunday's slate of action.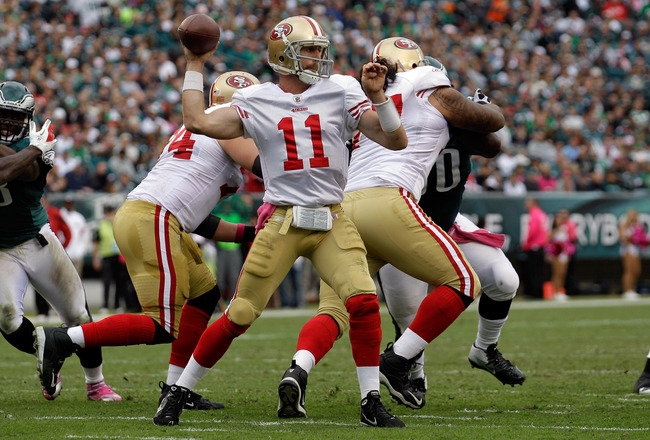 San Francisco 49ers…Anyone?
So the "Dream Team" took their All-Star packed lineup to the field in Philadelphia and played host to the San Francisco 49ers. What the Philadelphia Eagles didn't know (and what most of the NFL hasn't talked about) is that this 49ers team is better. On Sunday they proved they were better than the Eagles.
The Niners rolled out 21 2nd half points behind Alex Smith's big day passing (291 yrds, 2 tds) and stunned the Philadelphia Eagles to further cement their place atop the NFC North division.
49ers running back Frank Gore capped the comeback with a 12 yard touchdown run to bring the 49ers back from a 23-3 deficit.
So when are we going to start talking about the San Francisco 49ers? The main difference has been coach Jim Harbaugh who is mostly using the same players that were apart of the team last year and leading them to an impressive 3-1 start. On top of that Frank Gore, Alex Smith, Vernon Davis and Josh Morgan have really stepped up.
And you can't mention the 49ers without mentioning the impact Patrick Willis has on that defensive unit. This is a team to watch and may have the division crown well in hand.
http://www.youtube.com/watch?v=DCdK9xUmeH4
The New York Jets Aren't Who You Thought They Were
Channeling my inner Dennis Green, only saying the opposite. The New York Jets are NOT who you though they were. Better yet, maybe it's better to say the New York Jets aren't who they would like you to think they are.
For a few years Rex Ryan has chest puffed and screamed up and down from the highest rooftops about how his team was Super Bowl bound. His outlandish statements, bold proclamations and swagger seemed to fuel the Jets to much of it's success. Too bad they forgot to attach the Expiration Date on that product.
Sooner or later we would all see that there is only so much "talk" that a team can buy into. Eventually it would all lose it's effect and motivational impact.
The Jets got pushed around, bullied and embarrassed on Sunday night by the Baltimore Ravens and for the first time we may have seen the Jets for who they truly are.
A stellar defense with a subpar pass rush, a mediocre offense that is too old and is paying the price for relying on free agents as opposed to building from within and a quarterback who is too overrated for his own damn good.
The Jets have become a version of the Washington Redskins. Buy heavy in free agency and hope it all gels. Even a drunken old Joe Namath can see the writing on the wall. As good of a coach as Rex Ryan is he screwed up big time.
Plaxico Burress has 10 receptions for 2 touchdowns in 4 games. Ladanian Tomlinson has only 59 rushing yards and 13 receptions. The Jets look old and confused. Not very good investments on their part huh?
And Mark Sanchez who ESPN has a love-affair with is posting horrible numbers. He has 6 touchdowns and 5 picks throwing a shade of 1,000 yards and a passer rating of 75.9. Maybe it's time for everyone to admit that he isn't, hasn't been and won't be as good as they had thought or pumped him to be.
http://www.youtube.com/watch?v=cJnwCzxv8Qs
Matt Hasselbeck Gets the Last Laugh
Seattle Seahawks coach Pete Carrol should've stayed in college. Maybe he would have learned to be a better talent evaluator.
Carrol dumped quarterback Matt Hasselbeck in the offseason like a cheap clingy date. He instead opted to hand the reigns to Tavaris Jackson who seemed to impress Carrol with his unimpressive play with the Minnesota Vikings.
How's that working out for you Carrol? So far it has led to a 1-3 season. Jackson has thrown 5 touchdowns, 4 picks and a shade over 800 yards. Not to mention a mediocre at best passer rating of 80.0. But those numbers are actually better than how he is really playing on the field. In reality he can't convert 3rd downs, makes questionable decisions and has failed to show any progress.
On the flip side Matt Hasselbeck is leading his new team, the Tennessee Titans to a shocking 3-1 record. He is also playing pretty damn well with 8 touchdowns, 3 interceptions and over 1,100 yards passing.
So who got the last laugh?
Can We Stop Talking about the Cowboys and start talking Detroit Lions?
Seriously. All the major sports news networks need to quit this ridiculous coverage of the Dallas Cowboys. Tony Romo's hurt, Tony Romo is playing good, Tony Romo sucks, Tony Romo this, Tony Romo that. How about this…The Dallas Cowboys are 2-2 and just got pimp slapped by the Detroit Lions.
Yes, the Detroit Lions, the 4-0 and undefeated Detroit Lions. The Lions came in to Dallas and fell behind after one half 20-3. That didn't last long in Big D. The Lions stormed back and outscored the Cowboys 31-10 in the second half to take the victory from the Cowboys 34-30.
Maybe the Cowboys are regretting ditching offensive lineman Andre Gurode and Leonard Davis. Wonder how Tony Romo feels about that line nowadays?
http://www.youtube.com/watch?v=ubwV-KGIiTM
Buffalo Bills meet the
"Trap Game"
For years the Buffalo Bills have been the definitive "trap game". A "Trap Game" is a game that a streaking team is pitted against a vastly inferior team on paper. In most of these games the heavy favorite isn't as motivated to play these lesser teams and plays down to their level, most of the time resulting in defeats for the opposing teams.
The Bills were this team for years. Their fast start to the season has come at the expense of some really talented teams (Patriots, Raiders) and headed in to play a 1-2 Cincinnati Bengals team. The Bengals out-dueled the Bills and put on a 2nd half comeback of their own to beat Buffalo 23-20.
Will this stop their route to the playoffs? No. But they should take notice. The defense needs to play better, the Bills can't always be in shootouts and expect to win.
Let's see how they handle their next "trap game" against the Miami Dolphins who are currently 0-4.
So that concludes this edition of "A Case of the Sundays". I know most of you are shocked I failed to make any mention of my Miami Dolphins, but rest assured this week I will have one large article on the Dolphins.
Let me know your thoughts on the topics touched on in this piece. Let's hear your rants!!