Milwaukee Brewers Win Division, Prepare to Play the Braves
The Milwaukee Brewers have won their first NL Central Title since 2018. They clinched their crown with an 8-4 home win against the New York Mets. The Brew Crew now prepare for a best of five series against the NL East Champs, the Atlanta Braves. After being swept by the Los Angeles Dodgers last season in the NL Wild Card Series, the Brewers hope to redeem themselves this year when the series starts Friday Night.
Hold up. You thought our work was done? #ClawsUpMKE pic.twitter.com/XfAsas0iwi

— Milwaukee Brewers (@Brewers) October 1, 2021
Milwaukee Brewers stalwart rotation
The Brewers' success this season was due in large part to the performance of their elite starting rotation. Their top three starters; Corbin Burnes, Brandon Woodruff, and Freddy Peralta dominated NL batters all season and prevented Milwaukee from enduring any extended losing streaks.
Burnes in particular had an exceptional season. He became the first Brewer to win the NL ERA title posting a mark of 2.43. Brewers' manage Craig Counsell had this to say about his ace: "However you want to say it, it's been remarkable is what it's been. He's had a historical season. He's done things that no pitcher has ever done, and it's been a joy to watch."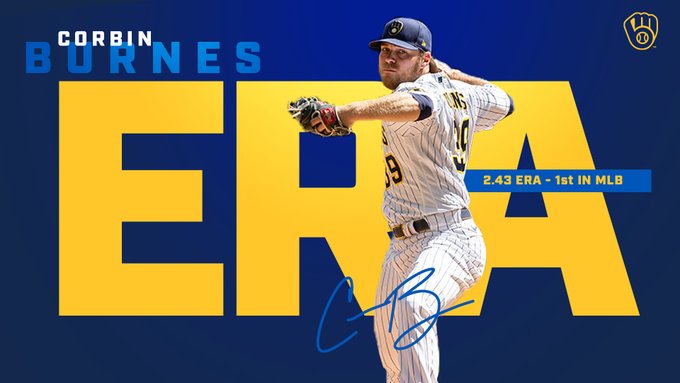 Shutdown relievers
The Milwaukee Brewers also featured a suffocating bullpen led by relievers Devin Williams, Eric Lauer, and closer Josh Haider. Haider in particular was lights out for the team striking out 102 batters in 58 and 2/3's innings pitched. Ouch!
The Brew Crew will unfortunately be without the services of setup man Williams during their playoff run. He punched out a wall and fractured his right throwing hand during the team's division-winning celebration. Milwaukee will miss Williams and his almost unhittable changeup. He held opposing batters to a paltry .090 batting average this season.
Clutch hitting by the Milwaukee Brewers
The Brewers offensively will rely heavily on outfielder Avisail Garcia, shortstop Willy Adames, second baseman Kolten Wong, and infielder Eduardo Escobar. This quartet accounted for 91 home runs and 284 RBI's during the regular season. Of note, some of Escobar's totals came as an Arizona Diamondback before he was acquired by Milwaukee in July.
Deer District
The Milwaukee Brewers will be a formidable opponent for any team they face in the playoffs. Their dominating pitching, coupled with their clutch hitting should provide many a sleepless night for opposing managers. Milwaukee's fabled Deer District is already planning playoff watch parties. These will be parties you won't want to miss.
Fall Special—Top Titles Now Up to 85% Off Newsstand Prices
Save even more with DooDahDeals Clearance Items! Deep discounts on your favorite name brands. Act quickly, inventory is limited!